BHS

boys end meet with victory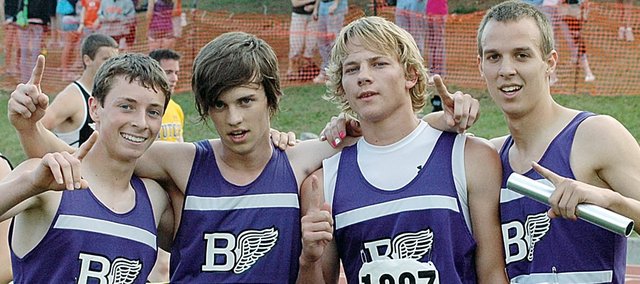 Photo Gallery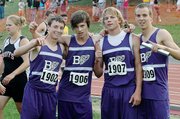 State track and field 2008
Baldwin High School competed at the 2008 state track and field meet in Wichita May 23-24. BHS came home with four gold medals and two school records.
Wichita — It was all about going out in style here Saturday night.
That's exactly what the Baldwin High School boys' track and field team did. The Bulldogs ended the 2008 state meet to thunderous applause and several hugs. It was a storybook ending for two senior Bulldogs.
"That was a great way to end my high school career," senior Kyle Smith said. "I couldn't ask for anything better, actually. This just made everything worth it."
Smith was the first leg of the boys' 1,600-meter relay that won the Class 4A gold medal. BHS ran 3:25.52 to win the race.
Fellow senior Dustin Schiller was the anchor leg for BHS, which came from behind to win the final event of the two-day meet.
"This was a great end, especially being my senior year," Schiller said. "Coming at the end was great. I ran my fastest split ever."
Schiller broke 50 seconds on his split for the first time all season. He chose the perfect time to run his best time. Not bad for a first-time track runner, who used to play tennis in the spring for BHS. After the final race, Schiller wasn't sure if he would have rather ran track a couple of more years or not, but it had entered his mind.
"I don't know, because tennis helped build my character," Schiller said. "If we could have won the state title again, maybe I would have."
Of course, it wasn't just the BHS athletes that were excited after the race. All season long, the boys' 1,600 relay had been a staple for the Bulldogs, according to boys' coach Mike Spielman. After the state title race, he said there was no better way for his team to end the season.
"It's been that way all year," Spielman said of ending the meet with an exiting race. "That race has been such a great ending to every meet and it's always the most exciting race. You don't end it any better by being the winner of the last event of the last meet of the year and being state champions. That was awesome."
On Friday, Baldwin ran the fastest time in the 4A preliminaries by running 3:27.62, narrowly beating three other teams by less than a second. That time earned them a spot in lane four and gave them confidence heading into Saturday night's finale.
"It's kind of hard to know what's going to happen, even though you have the fastest time coming in," Smith said. "We were confident, but not over confident."
Frontier League rival Paola had the second-fastest time on Friday, but switched runners for Saturday's final. BHS freshman Carson Barnes said the Bulldogs were confident after Friday, but had to remain weary of the Panthers.
"We were thinking we could win," Barnes said. "We knew Paola would be up there close, since they switched out one of their runners. We just had to go out there and run our best."
Another hurdle that could have tripped the Bulldogs was lack of energy exerted Saturday. Schiller ran the 400-meter dash in the afternoon and he joined Barnes on the 3,200-meter relay in the morning. However, Smith and junior Ryan Kennedy rested up all day.
Too much rest can be bad for runners, but Smith said the BHS coaches made sure that didn't affect their athletes.
"The coaches did a good job of getting us and making us be active," Smith said.
Then the time to run came Saturday night and the Bulldogs were ready. Smith led the Bulldogs off with a near 51-second split and handed the baton to Kennedy near the top of the field.
"I am pretty happy with my leg," Smith said. "I made up the stagger on a couple of guys. I helped put my team in a good position."
Kennedy ran a time nearly identical to Smith's. He finished his lap in the front of the other seven teams, despite being boxed in during the middle of his leg.
"I got trapped over there at the 200 and I came around the curve on the outside and caught everyone," Kennedy said. "I just passed everyone."
Barnes took the baton in first place and maintained that lead until the final meters of his lap. The Paola runner took a slight lead before Barnes passed the baton to Schiller.
"I knew I didn't quite keep us in first down the home stretch, but I was hoping I got him close enough," Barnes said. "I was happy with my leg of the relay."
The BHS senior stuck to the Paola anchor like glue for 300 meters of the race, before out sprinting him down the home stretch. Schiller even smiled as he crossed the finish line, winning the gold medal.
"I knew if I got on him, I could probably beat him at the end, because I wanted it more," Schiller said. "We wanted it more as a team."
Spielman was thrilled with all four runners, but especially the seniors who led the Bulldogs in their final race.
"The two seniors did a great job of leading us," Spielman said. "That's unbelievable what they did. That's what you ask for out of those guys and they did it. That's how they will end their track careers in high school and they'll always remember it."
The other three Bulldogs weren't too nervous during Schiller's final leg, because they had confidence in his ability and determination to win.
"Dustin did great, man," Kennedy said. "We ran our fastest time of the year. That was the most exciting thing in my life. It was incredible."
Two other league schools, Louisburg and Paola, finished second and third, respectively, in the race. Spielman said the league might have had another team in there if De Soto hadn't been disqualified in the prelims for dropping its baton.
"We had some great teams in there and that's what makes you better all year," Spielman said. "You know if De Soto doesn't drop the baton in prelims, we might go one through four."
BHS only scored seven points as a team up to that point. A strong finish in the relay would boost them in the team standings. That's exactly what it did.
The victory moved Baldwin from 27th in the team standings to 13th as it finished the meet with 17 team points.
Baldwin scored in three other events during the weekend. Schiller placed fourth in the 400, running 50.58 and scoring four team points. The other individual scoring performance came from freshman Tony Weiss in the 3,200-meter run. Weiss ran a personal-best 10:02.63 to finish seventh.
"I was pretty happy with my race," Weiss said. "I got seventh and ran 10:02. I was trying to break 10, but I got close. I wish I hadn't gotten hurt earlier, but I was pretty happy to medal. It feels good."
The final event was the 3,200-meter relay that placed sixth in a time of 8:22.94. The team members were Schiller, Barnes, Weiss and junior Brad Canterbury.
BHS did participate in two other events during the weekend. Smith ran in the 200-meter dash, but was unable to make finals. Junior Logan Schiller competed in the pole vault and tied his best at 12 feet, 6 inches to place 10th.
"We've been up and down with all kinds of things," Spielman said. "We ended on a great note and it will give us a great jump start to the beginning of next year.
"We did all of the things that we could have done," he said. "We just did a great job and we maxed out what we had. That's all you can ask for."