Baker University string players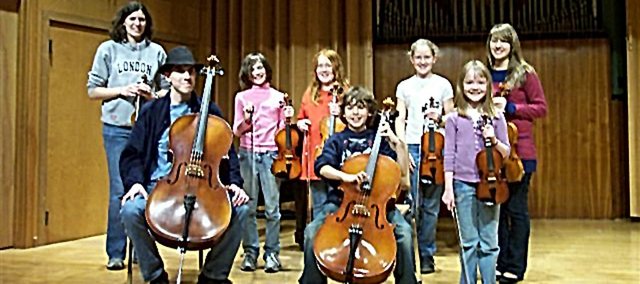 The Baker University Lab School String Group made its public debut May 6 performing Suzuki selections and fiddle tunes prior to the Baker University Lab School Spring Recital. BU Music Education students Eric Loux of Lawrence, Sarah Shipley of Olathe, Wild Life Biology student Rachel Kilian of St. Louis, Mo., and their mentor Lori McKinney led the weekly group lessons during the spring semester.
Baker University Lab School String Group members are front row from left, Eric Loux, BU student, Emery Eliason, and Lindsey Toot. Back row are Sarah Shipley, BU student, Emma Bailey, Catherine Christian, Olivia Yardley and Rachel Kilian,BU student. The non-BU students are from Baldwin City.
"Our new group provides a unique opportunity for Baker music students to get group teaching experience as well as provides a group experience for the young string students in addition to their private lessons. We anticipate the addition of two new groups next fall: one for preschoolers and a beginning class for school-aged students. I am grateful to Trilla Lyerla, director of the BU Lab School program, for supporting this new venue for the college and community students," said McKinney, BU adjunct instructor and orchestra director.