Another busy June for Baldwin City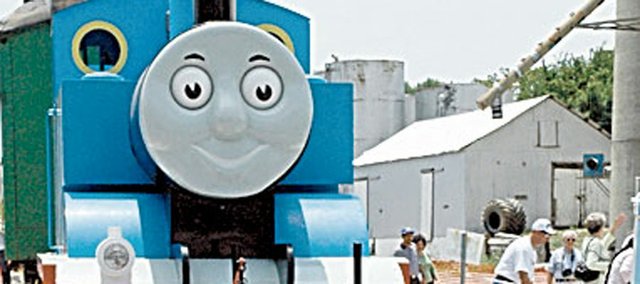 Once again, Baldwin City will be a busy place during the first two weekends in June.
Both weekends will be packed with the usual assortment of events, including garage sales, Thomas the Tank Engine and Planes, Trains and Automobiles. All of it gets underway next week, starting June 6.
A Day Out with Thomas 2008 rolled into town this week for its annual two-weekend visit. The event begins today and runs through Sunday this weekend and then it runs June 13-15. It will once again be taking place at the Midland Railway Depot, on the west side of Baldwin.
"It's coming together nicely, as always," Tim DeMott, event organize, said last week. "We're always excited about Thomas coming back each year. We are set for a new and exciting year."
Some new items this year will include a new magician, a petting zoo, LEGO blocks and new merchandise designed more toward event. Other activities include meeting Sir Topham Hatt, storytelling, magic shows, toy trains and much more.
Thomas the Tank Engine has become a popular destination for area families and children, while becoming a fundraising event for local groups. Tickets for the 25-minute ride with Thomas can still be purchased for both weekends. They can be purchased by calling 866-468-7630 or online at www.ticketweb.com.
Another event that will be taking place that same weekend will be the 21st annual Baldwin City Friends of the Library City-Wide garage sale. It will be happening Saturday all around the city.
Garage sale directories can be picked up from 4 p.m. to 7 p.m. for Friends of the Library and those who are listed in the directory, but everyone else must wait until 8 a.m. Saturday to pick those up.
The final event of the first two weekends might attract the most local residents. It's the annual Planes, Trains and Automobiles and it will be here June 13-14. It's Baldwin City's annual Father's Day celebration.
Each year the event is highlighted by several smaller festivities. This year there will be a pair of new contests - best of Baldwin barbecue and a two-on-two basketball contests.
"We're still looking for and inviting people to participate in the barbecue contest," said Stan Vickers, one of the Planes, Trains and Automobiles organizers.
Information on the barbecue contest can be found at the Baldwin City Chamber of Commerce office by calling (785) 594-3200 or online at www.baldwincitychamber.com. The basketball contest is being sponsored by the Baldwin City Recreation Commission. The entry fee is $10 and there is a maximum of three players per team. All entries must be registered by June 13 by calling (785) 594-3670 or online at www.baldwinrec.org.
The other events include an antique car show, airplane flights, a vintage motorcycle show, Father's Day speeches and local bands performing inside the Lumberyard Arts Center.
"Everything is right on schedule and we're just finishing up the details on a few things," Vickers said. "We expect to have a good time and lots of people.
"We want everyone to come and be safe during their travels," he said. "We know the gasoline prices are a situation, but we want everyone to come and go home safely."