Memorial Day service moved inside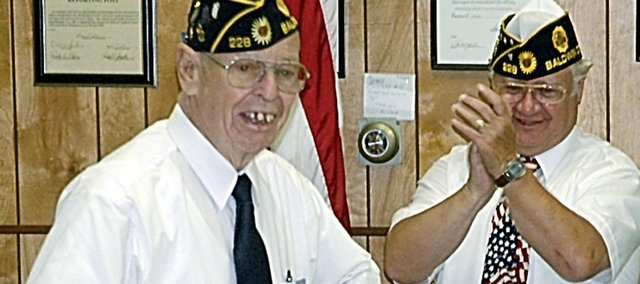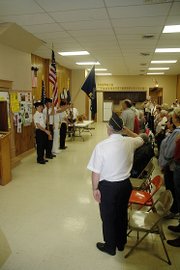 Monday's showers and threatening lightning forced the Memorial Day service into the American Legion Hall, rather than its usual scenic view at Oakwood Cemetery.
"Just relax," said Larry Francq, Legion commander, to the crowd that had gathered. "It's a little dicey outside, so we decided to move this inside."
Other than that, it was standard fare for the services.
"This is for our departed comrades," said Francq.
As usual, the Rev. Ira DeSpain, Baker University campus minister, led the group in prayer.
"We give you thanks for the rain that nurtures our land, but thank you more for the reason we're here to honor our veterans," said Rev. DeSpain.
The speaker for the service was Dan Roberson of Olathe, who has just finished his year as State Commander of the Legion. Francq said Roberson is no stranger to Baldwin City and the Lloyd Beaton Legion Post.
"We've always been made to feel real welcome here," Roberson said to open his remarks. "It's always good to come to Baldwin City."
Roberson detailed several situations where veterans had left notes for their families in case they were killed in battle. Each of the stories painted a willingness to serve and no regrets in having given the ultimate price for their country.
"What do you say to someone who has paid the ultimate sacrifice?" said Roberson. "Thank you is a start, but doesn't come close."
Roberson also used standard Memorial Day comments, such as how it shouldn't be remembered as the start of summer, for going to the beach and car races, but instead to honor those who had fallen in battle.
"Americans must remember that freedom isn't free," he said.
He told the gathering some history of Memorial Day, including that it was chosen because it wasn't an anniversary of a battle. He also urged the crowd to not just use the one day to honor veterans.
"Once a year is not enough to remember what they've done for us," said Roberson. "Not just today, but long after we leave here."
Following his speech, Roberson honored longtime Baldwin City veteran Archer Carlson for his decades of service to the post. There were also the usual moments of silence and ringing the bell to remember family members that had been lost in war.