Garcia wins third straight 3,200 state title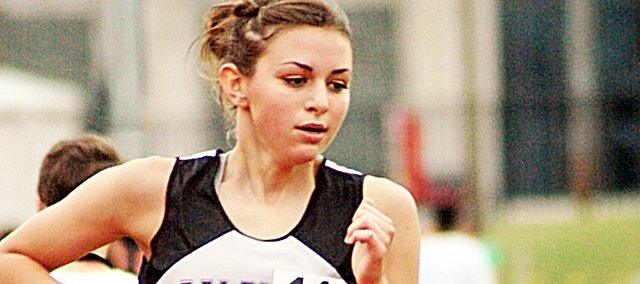 Wichita — Heather Garcia wasted no time in starting her final state track meet with a victory.
The Baldwin High School senior standout stepped on the track at 7:45 a.m. today for the 3,200-meter run. She took the lead early in the race and paced herself to her third straight 3,200 state championship. Garcia won the race in a time of 11:09.45.
"It was a good race, but really windy," Garcia said. "I ran by myself for the whole race which is a little harder to do. This means a lot to me, especially because it's my senior year. I want go to out with a big meet and this is where it starts."
Garcia will take to the track three times tomorrow, beginning at around 11:30 a.m. with the 3,200-meter relay. She will also run the 800- and 1,600-meter races.
Two other BHS runners have competed this morning. Freshman Tony Weiss ran the 3,200 run and earned a medal by finishing seventh. He ran a personal-best time of 10:02.63 in the race. Weiss will also run in the 3,200 relay tomorrow.
Fellow freshman Lyndsey Lober competed in the 100-meter hurdles, which was loaded with many talented Class 4A girls. Lober finished 14th out of 16, running 16.28 seconds.
BHS senior Dustin Schiller qualified for the finals of the 400-meter dash by running 50.70, which was the fourth fastest time of the 4A preliminaries.
In the field events, BHS freshman Allison Howard competed in the discus and finished sixth. She threw 120-feet, 10 inches to medal at her first state track and field meet. Junior Logan Schiller competed in the pole vault and tied his personal-best of 12-6 to place 10th.
Both BHS 1,600-meter relays qualified for Saturday's finals with their performances today. The girls' team finished seventh in the prelims, while the boys' team won the prelims. Both teams will again compete Saturday night to close out the meet.
Two Bulldogs competed today, but were unable to qualify to finals in their individual events. They were senior Kyle Smith in the 200-meter dash (23.97) and freshman Ramie Burkhart in the 300-meter hurdles (50.75).
Live results of the meet can be found at www.tickertiming.com.
The Signal will continue to update the Web site with results as the meet goes along.