Venable inspires
BHS

Class of 2008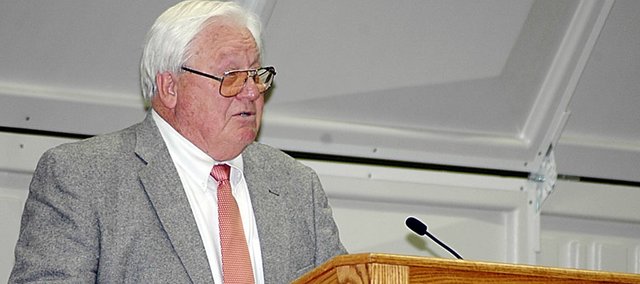 Photo Gallery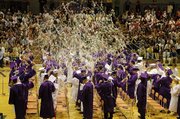 Baldwin High School commencement
Baldwin High School held its 121st commencment Saturday afternoon. A total of 84 students graduated from BHS this year. Merle Venable, former BHS teacher and coach, gave the keynote address.
Merle Venable gave 84 graduating seniors a few words of wisdom Saturday.
Venable, a former Baldwin High School teacher and coach for 19 years, gave the keynote address at the annual commencement ceremony. His two main topics and words of advice were to read books and have courage. He spoke briefly about both, while mentioning famous Americans such as John Adams, Teddy Roosevelt and Bob Dole. He even mentioned his own hero, Major League Baseball Hall of Famer Ted Williams.
"It's because of courage that some people become legends and heroes," Venable said. "My hero was Ted Williams, a World War II and Korean War veteran and the last man to hit .400. His greatest accomplishment was founding a foundation to help fight cancer in children.
"You must do the things you think you cannot do," he said. "Here is something that may really surprise you. It's fear that gives you courage."
Venable went on to speak about life as the students grow older and face challenges in their future. He gave the graduates one final message before accepting his gift for being the speaker. He was given a framed photograph taken by former BHS teacher and coach C.R. Herpich.
"They say if you love what you do for a living, you'll never work a day in your life," Venable said. "Don't let obstacles get in your way. Just remember to make the most of opportunities that come up in your life and be brave."
Logan Keener, a graduating senior who represented the class with a speech Saturday, enjoyed Venable's message.
"Venable was heartfelt and thought-provoking," Keener said.
During his own speech, Keener said he was blessed to grow up in this community and will always remember the University of Kansas' national basketball championship a month ago. He also said he hopes to take some things with him in the future, while leaving other things behind, such as a particular rap song.
"In 20 or 30 years, I hope that I do not remember how to do the 'Soulja Boy' dance," Keener said. "Instead I hope to remember what we learned in elementary school - that reading is the key. I also hope to remember not to throw pop cans in the fire. I hope to remember no matter how much you procrastinate, senior projects do no disappear."
Junior Matt Giarraputo enjoyed Keener's address.
"I thought Keener's speech was amazing. I will remember it forever," Giarraputo said.
Colby Heckathorne also represented the class with a speech Saturday. Heather Garcia presented the class gift, which was two wall mats that are now at the east and west ends of the Baldwin Junior High School gymnasium.
Also featured at the graduation ceremony was a chair dedicated to Krystal Bateson. She was a member of the class of 2008, but passed away tragically in June 2004. A chair was reserved for her at graduation with flowers, notes and other items brought in by classmates.
"I got a few tears in my eyes when I saw Krystal's chair," Giarraputo said.. "I thought that it was nice for the school to do that."
The class of 2008 made a big impact on BHS, according to teacher and football coach Mike Berg.
"I'm going to miss them. They were a great group. They had a lot of motivation to succeed in a lot of areas," Berg said.
English teacher Bonnie Butell-Huntoon agreed.
"I have a special place in my heart for the senior class because they were freshmen my first year here. I saw them grow and mature," Butell-Huntoon said.
Eleven of the graduates earned a medallion for Honors with Distinction, because they maintained a grade-point average of 3.8 or higher all four years. Another 10 graduates were Honor students for having a GPA between 3.5 and 3.8.
Nicole Eberhart, BHS Correspondent, contributed to this story.