Board delays decision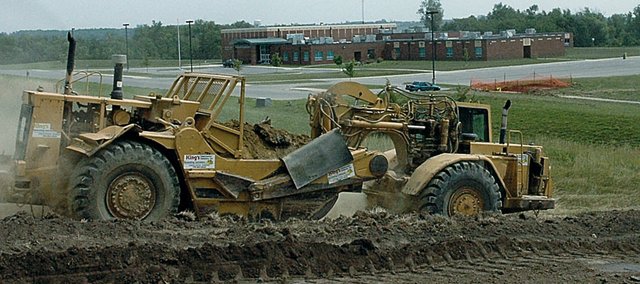 An increased cost estimate on the Baldwin School District's facilities' committee recommendation has postponed a possible bond issue resolution even further.
Originally, the bond issue was priced at $22.5 million, but several factors have combined to boost that estimate. Extending two city roads added with the increased cost of steel and gas caused the new estimate to be slightly more than $24.1 million.
The news of the increased cost forced the Baldwin School Board to rethink a possible bond issue. Supt. Paul Dorathy said the board would have to go back to the committee before the June 2 meeting, then hope to make a decision at the board meeting on June 23.
"I think the board felt like the increase in cost was something that they needed to look at a little closer," he said. "They didn't feel like they could just walk in and say it's going to be this much more. We need to see if whether or not we can stick with the scope of projects that we've had. I think they are going to wait until at least June 23 to do that. They really hoped to do that last night, but they didn't."
Alison Bauer, board president, was sad to postpone the decision on a resolution, but agreed with Dorathy.
"With the increase in the steel costs and the requirement by the city that we build more road than we were anticipating, it's made the cost of the bond issue go up," Bauer said. "We really have tried to be supportive of what the facilities' committee recommended, because it was a good cross-section of the community.
"They recommended that our community could pay about $22 million," she said. "I don't want to try and float a bond issue that is $24 million, so we have to go back to the drawing board with our thinking caps and see what we can do. We need to make this in the price range that we think our community can afford."
The school board invited the architectural firm, DLR Group, and construction company, Manning Construction, that were hired to help with a bond issue, to Monday's meeting to help formulate a resolution. Instead the two parties informed the board of the increased cost and it might be a good idea to cut that price down.
"We were a little bit higher on the cost than you first expected, because you have some road extensions planned in there, " said Tom Manning of Manning Construction. "Some of it is because of increased costs, too. We were just talking to John Fuller and they are talking about a three percent increase on the price of steel per month for next five or six months. Because of that we are a little higher on our estimate."
Fuller, architect with DLR, confirmed the rising construction costs, but added that exact price estimates are difficult to get without better sketches of what proposed facilities would be built.
"It's really tough to do cost estimates without a set of drawings," Fuller said. "They are doing the best they can without specific drawings. That being said, you have to always budget for the worst-case scenario.
"All of that being said, I'm a little leery of putting a bond issue of $24 million plus out there," he said. "I'm not sure a $24 million bond issue would have a chance of passing. I'm even a little leery of the $22.5 one. I think the board needs to talk about ways to reduce the scope. I think that's really where you are at as a board."
Near the end of the brief report Monday, Bauer said she was uncomfortable with making a decision that night. John McArthur, district financial advisor, told Bauer she was making a smart choice.
"I think that's a wise decision. The patrons know the process that you've gone through," McArthur said. "They are going to see that you've gone another step here to find something that works, is cost effective and has no fluff. That's what I see."
The $24.1 million estimation includes a new 480-student Baldwin Elementary School Primary Center and early childhood center. That building would include the BESPC students, the 4-year-old program students, Parents as Teachers organization and possibly Rainbow Experience Preschool. The price of that building has jumped to $15,887,762, mostly because of the added cost for street extensions.
Manning budgeted $1,224,000 for new roads. That price includes the extension of Elm Street east from Lawrence Street and then north to the existing portion of Bullpup Drive.
"They raised the cost on some things, because of the price of steel," Dorathy said. "The other thing that got to be initially higher than we thought was the cost of the street extensions. That got to be about $1.2 million and the original cost was $540,000. That came in pretty expensive."
Also included on the committee's recommendation was a new performing arts center. It would be around 10,000 square feet and would hold around 600 people. That cost is estimated at $3,746,810.
Other items were baseball and softball fields ($2,057,045), practice track facility ($585,000) and technology and security needs ($500,000). Those items combined to be estimated at $3,283,045.