BHS

ready to shine in Wichita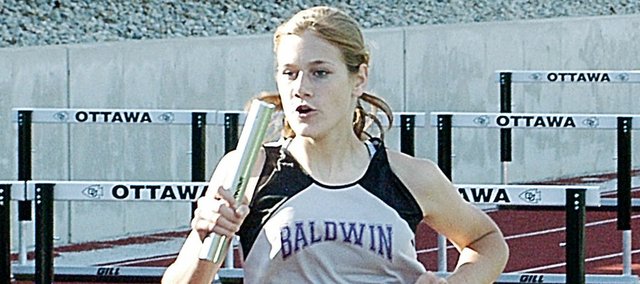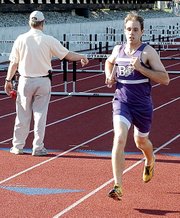 Expectations surrounding the Baldwin High School track teams are high for this weekend as they head to Wichita for the state meet.
Those expectations come from performances at the Class 4A regional meet Friday in Ottawa. Along with two-time state champion Heather Garcia, the Bulldogs also qualified several individuals for state. However, it's the relays that might make some noise during the weekend.
Both teams qualified their 1,600- and 3,200-meter relays for state. All four relays are ranked in the top six in 4A with their regional times, which could bring promising results for the Bulldogs.
"Both relays are sitting really good going into state," BHS boys' coach Mike Spielman said. "The 4x400 is sitting second and the 4x800 is in the top six. That's going to be good for us as a team."
The boys' 3,200 relay finished third Friday in a time of 8:29.22. The team is ranked sixth heading into the state meet. At the end of the night, the 1,600 relay edged out Louisburg to win the final event. BHS ran 3:27.75 in the victory and is ranked second in 4A.
"That's the greatest race to watch," Spielman said. "It's at the end of the track meet and everybody's pumped. We kept close and Dustin (Schiller) made a great move at the end to catch a couple of teams. He got the lean at the tape and the crowd went crazy. It was an exciting race to watch."
Senior Kyle Smith, junior Ryan Kennedy and freshman Carson Barnes ran the first three legs of the relay. Schiller, a senior, battled sickness all day, but finished the day with a come-from-behind victory.
"I guess it was just a rough day for me," Schiller said. "I took some medicine and I got better.
"I felt a lot better during the 4x400," he said. "When we were warming up, I knew it would be a better race than my open 400. My teammates put me in a good position and I just finished it."
On the girls' side, BHS had even better results. The Bulldogs won the 1,600 relay and finished runner-up in the 3,200 relay. The 1,600 ran 4:07.7 and is ranked sixth heading into the state meet, while the 3,200 relay ran 10:08.59 and remains ranked fifth.
"We are pretty pumped about being ranked really high in the state," junior Corinna Papps said of 3,200 relay. "I think we have a great chance of winning the relay. It's going to be a lot of fun all weekend."
Of course, the relays weren't the only qualifiers for Baldwin. The girls' team is sending five members in individual events. Senior Heather Garcia won the 800-, 1,600- and 3,200-meter runs Friday. At state she will be looking to defend her 1,600 and 3,200 titles that she has won two straight years. She has finished runner-up in 800 both years.
Fellow senior Courtney Harris will be returning to state in the javelin for the second year in a row. She finished third at regionals.
Three BHS freshman will be heading to Wichita for the first time. Allison Howard finished fourth in the discus, Lyndsey Lober placed third in the 100-meter hurdles and Ramie Burkhart finished fourth in the 300-meter hurdles.
"I am happy for a lot of kids," BHS girls' Ted Zuzzio said. "We had some young kids that earned their way to state. There were some quality people in every event. No one was able to just show up and make it. They had to earn it with quality times and marks."
The BHS boys' are also sending several participants in individual events. Senior Kyle Smith finished third in the 200-meter dash to qualify. Freshman Tony Weiss will be heading to state for his first time after placing third in the 3,200 run. The other first-timer is junior Logan Schiller, who was third in the pole vault.
"I was very happy. We had a great meet all the way through," Spielman said. "We had a bunch of people step up and getting 10 people qualified is a great thing. We were really, really happy.
"We got Logan in the vault, Kyle in the 200 and Tony in the two mile," he said. "We are doing some good things and we are really happy to be headed down there with these kids and the quality we got."
Team scores fared well for Baldwin, too. The BHS girls won the regional meet with 75.2 points to bring home the championship trophy. The Bulldogs edged out Eudora, which scored 71 points, which surprised the BHS coach.
"We had a wonderful meet," Zuzzio said. "We didn't have anyone that had a bad day. We didn't have a bad day. We had a wonderful day.
"I was really eyeing qualifying kids for state and not loading up events to score points," he said. "It just happened to fall out in our favor. That's basically what happened. We had some kids that could have run three or four events, but only ran two. I looked at what we could do at the state level and focused more on that. It was a wonderful feeling to win, though."
Baldwin tied for fifth on the boys' side with 45 points with Chanute. Paola won the meet with 95 points. It was an improvement from the week prior, where the Bulldogs placed seventh at the Frontier League meet.
"It was really nice, because it was a little rough at league for us," Spielman said. "We bounced back and did a really nice job. We scored in a lot of different events and that was good for us."
Baldwin will be participating at the state meet Friday and Saturday. The BHS girls will be trying to bring home another trophy after placing third a year ago.
"We are eyeing another state trophy and year on the banner," Zuzzio said. "We are just going to let the chips fall where they may. We are excited."
Spielman just hopes his team competes to the best of its ability this weekend.
"We've got a lot of things that are sitting pretty good," he said. "It comes down to going down there and doing it that day. In the past we've always done that and I don't expect anything less from these kids."