Garcia golden at final league meet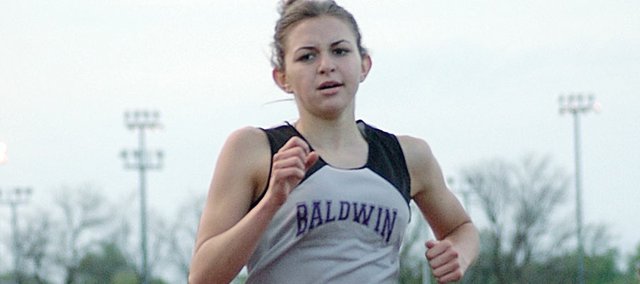 Spring Hill — Heather Garcia left her mark on the Frontier League during the past four years, but she finalized that imprint here Thursday.
She won her three individual distance races and nearly led the Baldwin High School girls' 1,600-meter relay team to a victory. The BHS senior led the girls' team to a second-place finish at the league meet.
"Oh my gosh, what a day," Garcia said. "This was a good one to go out on. I've never done this well, so I'm happy with it. We've never had a league meet like this. I felt so good running. This is my favorite type of weather - it was like perfect. I felt awesome and ready to run."
During a two-hour stretch, Garcia ran all four races and posted impressive times in each outing. She began with the 1,600-meter run, where she battled long-time rival Cali George of Gardner-Edgerton.
Garcia and George stuck with De Soto's Ellie Sheridan for two of the four laps before separating themselves from the freshman. Garcia then paced herself behind George heading into the final lap.
"I was just coasting with her until she picked it up on the second lap," Garcia said of George. "Then I picked it up on the last lap and felt really good on my kick. That's the one thing I've been working on."
With 300 meters left, Mike Spielman, boys' head coach and distance runners' coach, gave Garcia the go ahead to leave her Trailblazer foe behind. Garcia crossed the finish line in a time of 5:03.36, nearly four seconds ahead of George.
"He said 'make a surge' and I was ready," Garcia said. "So, I just did what he told me to."
An hour later, Garcia raced in the 800-meter run. She ran with Sheridan for 700 meters before sprinting ahead and winning. She ran 2:27.06 in the victory.
After one heat of the boys' 800 and two heats of the 200-meter dash, Garcia was back on the track - this time for the 3,200-meter run. For more than six laps, Garcia stayed right behind George.
On the final lap, Garcia took the lead and never looked back once again. She ran 11:12.65 to win the race four seconds ahead of her rival again.
"This was the last time we will compete against each other in high school," Garcia said of herself and George. "We talk and we're really good friends off the track, but once that gun goes off, we compete. Then once we are done, we talk about the race. She is so nice and it will be weird not running against her."
Around 20 minutes after completing the 3,200, Garcia would run her final race of the day. She anchored the girls' 1,600 relay. She ran a 60-second split, but was edged out at the finish line by a Gardner competitor as BHS finished second in the race.
"Heather Garcia set the table as far as winning her three specialties and anchoring our mile relay in a really fast time," girls' coach Ted Zuzzio said.
The 1,600-relay team ran its fastest time of the year. The relay ran 4:08.85, nearly four seconds better than its previous best this year. Also running on the relay was senior Courtney Harris, sophomore JaBryanna Wellington and freshman Lyndsey Lober.
Garcia hopes her fast times from the league meet will give her confidence heading into the final two meets of the season.
"It feels really good, because I didn't expect to run that fast, I guess," Garcia said. "I was hoping to win. This will boost my confidence heading into regionals and state, because if I can run this fast without trying to run fast, I now know that I am capable of it."
The BHS girls scored 100 points to place second as Class 5A Gardner-Edgerton had 146 points to win the meet.
"We had an incredible meet," Zuzzio said. "Honestly, it was incredible. I can't be happier for our kids with the way they competed tonight. Every kid on the track just laid it on the line. They were just incredible."
The BHS boys finished seventh as a team as they were short-handed Thursday.
"With the numbers we had, it was a good day for the guys," Spielman said. "The guys we brought did a great job of competing. We have some injuries and things going on now and if we get everybody back this week, we'll be tough. This week we just had to fight through it."
Both BHS teams had outstanding performances at the meet. On the girls' side, freshman Alison Howard threw a personal-best 121 feet, 8 inches in the discus to place second. She also threw 32-10.5 in the shot put and finished fourth.
Senior Courtney Harris placed second in the javelin with a mark of 120 feet. The girls' 3,200-meter relay finished runner-up to De Soto in a time of 10:17.69.
"All the way down from Allison Howard getting her personal best and second in the discus and fourth in the shot put to Courtney getting second in the javelin," Zuzzio said. "Those were big points for us. Our relays ran great and everybody ran great times tonight. It was exciting."
On the boys' side, senior Kyle Smith placed sixth in the 100-meter dash (11.88) and fifth in the 200-meter dash (23.66). Junior Ryan Kennedy finished fourth in the 400-meter dash in a personal-best time of 52.22.
"Kyle Smith had a ton of races with finals in the 100 and 200," Spielman said. "Carson Barnes and Sam Beecher stepped in and did a wonderful job for us on some relays."
Both BHS squads will be competing at the Class 4A regional Friday in Ottawa. The meet begins at 3:30 p.m.
"We've got some decisions to make," Zuzzio said. "We are just going to try and score more points than we did last year and bring home a trophy."
Spielman just hopes his team will be back to full strength.
"If we get everybody healthy and at full strength, we will do well," Spielman said. "Hopefully, we can get relays qualified and some guys in the field events, too. It will be good for us."