Early lead fades after grand slam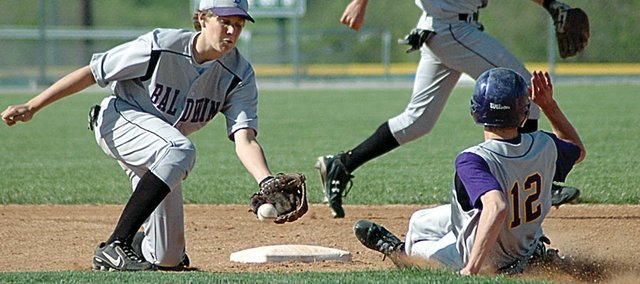 Lenexa — For a brief moment there was a glimmer of hope here Monday.
That hope began to fade away as a grand slam home run cleared the left field fence. The runs continued to pour in as the Baldwin High School baseball season came drifting to an end.
BHS was defeated 11-1 in the first round of the Class 4A regional tournament against No. 1-seeded Spring Hill. The Bulldogs finished their season 7-14, unfortunately losing their last seven contests.
"I'm not disappointed, because I thought our kids came out and went after them," coach Brock Hartshorn said. "We didn't back down from them. Our kids came out ready to play, but we just dug ourselves too deep of a hole early on."
Senior Michael Barnes was sad to see his BHS career come to an end by being run-ruled.
"Being my senior year, I didn't want to go out like that against them being run-ruled, especially in regionals," Barnes said. "Unfortunately, it happens."
Baldwin opened the game with a solid first inning. Junior Andy Thurlow hit a stand-up triple and was knocked home when senior Zach Durr hit a sacrifice fly to the outfield.
Durr's at-bat was followed by freshman Landon Ausherman, who proceeded to hit another stand-up triple. However, he was left on base, but the Bulldogs held a 1-0 lead after the top of the first inning.
"Each time we've played them, we've had a 1-0 lead, but we can't build on it," Barnes said.
He was right. Spring Hill's first two batters were walked and a third hit an infield ground ball to load the bases. The next batter drilled a ball deep and the wind help carry it over the left field fence for the grand slam.
"We got off to a bad start," Hartshorn said. "They hit the ball and they're a very good hitting team. I think their team batting average is somewhere around .460 this year. Zach (Durr) got off to a bad start and we just couldn't get ourselves out of that hole."
The Broncos added one more run in the inning. They scored four more in the second inning to take a 9-1 lead. Freshman Justin Vander Tuig came into relieve Durr in the second inning. He allowed three runs during his time on the mound, one of which came at the end of the second inning.
"After that point, we played pretty well," Hartshorn said. "We only allowed two runs in the next three innings. Justin Vander Tuig pitched really well coming in and throwing the last three innings."
Baldwin never got its offense to produce as hits were few and far between. The Bulldogs did make contact, but the ball seemed to travel directly to a Spring Hill player.
"We struck out too many times," Barnes said. "We did put the ball in play, but we hit it right at them. They're a pretty good team."
Hartshorn said the team struggled against a good pitcher all day Monday.
"At times we hit the ball, but they had a good curveball pitcher," he said. "We've been working on hitting curveballs and we just have to get better at it in the future."
The Bulldogs will lose three seniors from this year's team. They are Barnes, Durr and Aaron Karlin. However, the five starting freshmen will have a year of varsity experience next year.
Both Hartshorn and Barnes were pleased with this year's season.
"It was an average season, but I thought our kids played hard all year," Hartshorn said. "With the youth we had, they played hard. With them playing baseball this summer, it will do nothing but help them. These kids are going to get better. They will have another year of baseball under their belts next season, which will help us out."
Barnes hopes the freshmen continue to improve, because he wants to come back and watch them in the next couple of years.
"It was a lot better than last year (2007 record was 4-15), as many people know," Barnes said. "I thought it was a good season. It was a fun year and I look forward to coming and watching the freshman play in the future."