School board opts for project management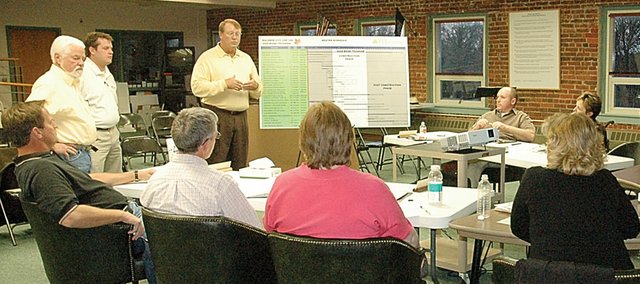 Monday night's meeting was only 20 minutes long, but one major decision took place during that time period.
The Baldwin School Board took another step in the direction of a bond issue Monday when it approved the motion to negotiate an agreement with Manning Construction Company. That was the construction management company that the board hired to work with on the potential upcoming projects.
"We got accomplished what we needed to," Supt. Paul Dorathy said. "I expected it to be fairly short, because the board already had a lot of information about the two companies. They were able to compare what they felt were oranges to oranges on what the fee would be. Then they were able to make a good decision based on that."
The agreement with Manning was approved unanimously.
"We needed to settle this construction management issue so that we could give them time to give us some hard numbers on our projects," said Board Member Ande Parks. "It feels good to get this done and out of the way. It will also be nice to work with a construction management company, so that Mr. Dorathy doesn't have to always be on the construction site."
The decision primarily came down to the difference in cost between Manning Construction and Universal Construction. Those were the two leading candidates after the April 28 meeting.
Universal gave its lump sum cost of $1.1 million at the last meeting, while Manning didn't. That forced Monday's short meeting. On Monday, Dorathy presented the board with Manning's cost - $980,000.
"That is a flat, set fee," Dorathy said. "There is no increase for change orders or anything through the project.
"It was recommended to us by the architecture firm that we get a flat fee for a construction management company, because there could be a lot of change in variance in the end of the project if we went with just a percentage," he said. "So they recommended that we do that and there wouldn't be any surprises at the end. I think the board feels very comfortable with that."
Parks said the ultimate decision didn't come down to dollar figures, because the DLR architects had already included a sum of money into the $22.5 million price tag for the bond issue. He said that dollar figure was higher than what the two companies were going to charge the district, which made the decision harder.
"It was tough," Parks said. "I liked the experience both companies brought to the table. I said at the meeting that they just seemed to be hungry to get out there and do the project."
At last week's meeting, the Manning Construction representatives said they worked with the Wellsville School District on its new elementary school. They have also done 15 projects with Olathe schools, six with Ottawa schools and seven with the Gardner-Edgerton district.
Dorathy said Manning Construction will now be working with DLR to figure an exact cost for the potential bond issue.
"Manning Construction will now meet with the architects and get all of the things they are estimating," Dorathy said. "Then they will look at it and they'll see if those costs are within the parameters of what their cost estimates are. Then we'll get an exact number for the board, hopefully by that May 19 meeting.
The $22.5 million facilities' committee recommendation includes a new 480-student Baldwin Elementary School Primary Center and early childhood center. That building would include the BESPC students, the 4-year-old program students, Parents as Teachers organization and possibly Rainbow Experience Preschool.
Also included on the committee's recommendation was a new performing arts center. It would be around 10,000 square feet and would hold around 650 people.
Other items were the baseball and softball fields, practice track facility and technology and security needs. The last items were renovations to Baldwin Junior High School. Those renovations include a new roof and updated heating and cooling systems.
The school board will again meet at 7 p.m. Monday for its regular monthly meeting. District facilities will be on the agenda.
"On the 12th, they are going to have some discussion about the facilities' committee recommendation," Dorathy said. "Then on the 19th, it should be a short meeting again, and I think they are going to make a decision on a resolution for a bond issue."