Improvements continue for school district
Technology Timetable part I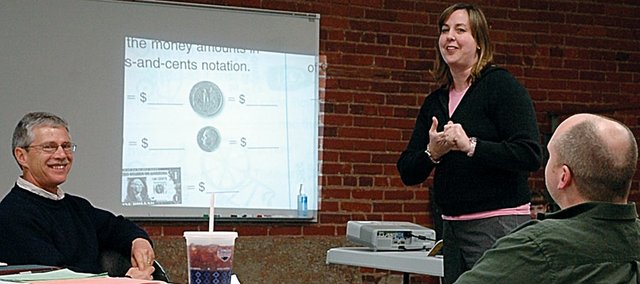 Editor's note: This is the first in a three-part series that takes a look at how technology changes is affecting the Baldwin School District.
Supt. Paul Dorathy said from the beginning that technology was one area he wanted to improve.
In his interview for the job in 2006, Dorathy said improving technology was one of his goals for the Baldwin School District. Two years later, he remains set on catching the district up with the times and making sure the students and teachers are learning the 21st century way.
"I think we've been able to make some strides toward improving technology, but we're still not where I would like to be with it," Dorathy said. "I think we are headed in the right direction, but I think we've got a ways to go before I would be happy with where we were at with technology."
During the past 12 months, he has spent district dollars toward enhancing the district's technological status. Most of that money has came from the Capital Outlay fund, while a small portion from the General Fund has paid for computer software.
Dorathy and the technology department worked together to create a five-year plan for the district. That plan was presented to the school board and approved a year ago. In Dorathy's mind, that was the first step toward improving the district's technology.
"The key was we needed to set a really good plan for the direction we want to head and I think we've been able to accomplish that," he said. "Then we've just been aggressive with the money that we have to purchase the pieces of equipment that we need."
Some of the improvements that can be seen are new computers in labs, new laptop computers for teachers at the two Baldwin Elementary Schools and Baldwin Junior High School, 32 projectors for classrooms, ELMO document cameras, smartboards and airliners, which are wireless slates that use the smartboard software.
Parent or community groups for some of the schools have also raised money and purchased some of that equipment for its school to further improve its students' education.
"We've benefited from the Capital Outlay money in the last couple of years, even though the budget seems tight," said Steve Hemphill, district technology support director. "Somewhere along the line, we may have to rest a year or move ahead until we retire some of our computer leases."
Hemphill also said the technology department originally wanted to purchase projectors for every classroom in the district, because the teachers have been using those a lot in their rooms.
"Our goal is to get a projector in each room," he said. "A lot of schools have done that, but we got about half of what we needed this year. Some of the teachers are sharing them, too."
Casey Morford, systems engineer for the district, said in hindsight the decision to only purchase a portion of the projectors was a good one.
"Money-wise it was probably a smart decision to only buy half of the projectors," Morford said. "We went to a league meeting and some schools had filled out every classroom with a projector and other technology things. A lot of them said they have many classrooms where that stuff is only used once or twice a week or month. So by only buying half, we have teachers saying they want their own, because it's hard to share. There are a few places where a projector just isn't ideal."
All of the computers and projectors are improvements that parents or district patrons can see as they pass through classrooms. In addition to those, the district has also upgraded its infrastructure.
"Computers are just one piece of it," Dorathy said. "You've got projectors, ELMOs, hand-held PDAs and then all of the stuff behind the scenes. We've done a lot of things behind the scenes that people don't even realize."
Some of the infrastructure improvements include new switches to increase speed and bandwidth, while also increasing the number of users who can access the Internet and district server at one time.
"Toward the end of last year, we added a DSL line to increase our Internet bandwidth," Hemphill said. "We used to use more bandwidth than we were supposed to use, but since the increase it's been great."
Morford added the money spent on improving the district's infrastructure was noticed immediately.
"Last year we had a little bit of money that we were allotted to spend," Morford said. "We addressed some bottlenecks with our network. We had some older networking equipment and we decided to standardize our equipment with one brand. Since then it has greatly increased our local Internet traffic. Students and teachers noticed it right away, because they were able to log on and do some research-intensive things without really noticing any sort of lag."
Jo Heins, fourth grade teacher at Baldwin Elementary School Intermediate Center, has enjoyed the technological upgrades and where the district is heading.
"Baldwin has done an awesome job at getting us what we need," Heins said. "I feel like we are getting really close to being right where we need to be as far as technology. I'm just grateful to have what we do have. I know the kids are grateful, too."