Home runs propel Bulldogs to sweep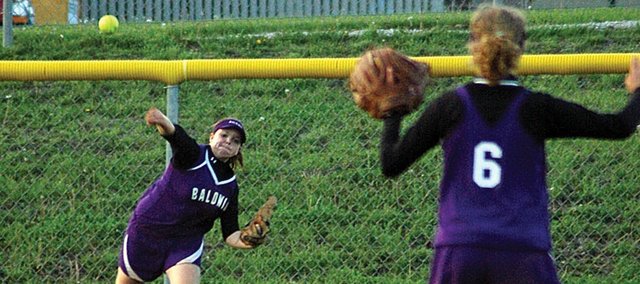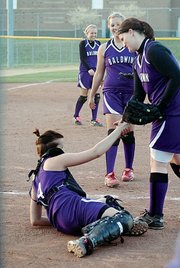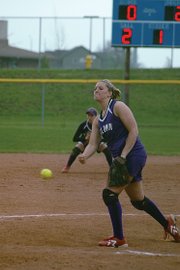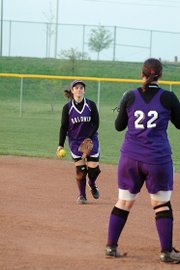 Gardner — It may not have been a home run derby, but the Baldwin High School softball team tried to make its doubleheader here Tuesday as close to one as possible.
A trio of softballs flew over the outfield fence, while a pair of others nearly climbed over or stayed fair. Officially the Bulldogs (10-5) hit three home runs Tuesday to help them sweep Gardner-Edgerton 7-5 and 13-1.
Freshman Lindsey Roberts hit a solo home run in the first game. During the second contest, junior Alex Zordel and sophomore MacKenzie Flory each hit one over the fence.
"We almost had a couple more," BHS coach Ginny Honomichl said. "Callie's (Craig) almost went over and MacKenzie's curved around the foul pole. We don't need to become enamored with hitting home runs, because when you go for something like that, it's a fly ball out."
The Bulldogs may not have been swinging for the fence Tuesday, but they were bringing the power to the plate. Flory's first-ever home run was a line drive over the deepest part of center field.
Later in the contest, she drove a ball well over the fence again. Unfortunately, the wind blew it left of the foul pole by a couple of feet.
"I should have hit two, but, unfortunately, one was foul," Flory said. "I am just going to blame it on the wind. The first one was to deep center field. That was the highlight of my season so far. It was probably the only home run I am going to hit. When I hit it, I just watched it and I didn't really run. Good thing it went over, because I would have gotten yelled at for not running."
In the second game of the night, Baldwin's bats were smacking the ball as BHS racked up 13 runs. Craig, a senior, and junior Haley Finucane were both perfect from the plate during the game. Craig was 5-for-5 and Finucane was 4-for-4 to help the Bulldogs crush the Trailblazers.
Craig even hit a shot deep into the outfield. It bounced off the outfield wall, just a few feet short of another BHS home run. She was happy to see her hitting improve and enjoyed hitting with some power.
"That was awesome, because I was frustrated in the first game after struggling at the plate," Craig said. "I really wanted to hit the ball hard and I almost hit one over, but it hit the fence."
Zordel pitched all seven innings for Baldwin and only allowed one run. Baldwin led 10-1 heading into the final inning and added three more insurance runs to the victory.
"Alex pitched well in the second game," Honomichl said. "As a team we hit the ball well, too. I liked our base running, because we didn't do anything that was stupid. It was fun just to play some games."
Baldwin controlled the opening game of the night, too, except for one inning. BHS jumped out to a 6-0 lead and had only allowed one hit through five innings. Then GEHS began to rally.
"I guess we just lost focus for that one inning," Craig said. "We were doing really well up until then."
The Trailblazers scored four runs in the inning and might have scored more, but a double play ended the inning.
"In that first game, Callie pitched well, but that umpire just frustrated her," Honomichl said. "He was all over, everywhere with his calls. It takes a lot to frustrate Callie and he did.
"Then we had that one bad inning, where we made that one mistake and followed it up with a couple more," she said. "They collected themselves and I only went out there once. I asked Callie what pitch she wanted me to call, because we needed to do something. She just said exactly what I thought she would say, 'call anything.' Then we got that double play and we were out of the inning."
Baldwin added one more run and held on in the seventh inning to win 7-5. Tuesday marked the fourth Frontier League sweep of the year for the Bulldogs.
"It felt very nice to win tonight," Craig said. "Alex and I both pitched well tonight. She actually pitched really well. It's nice that we can both do that on the same night."
Baldwin was scheduled to host a doubleheader against Saint James Academy Wednesday. BHS will travel to Central Heights to play a single game at 4:30 p.m. Friday. That will be the final regular season game before the Class 4A regional tournament begins Monday.
"These don't count on our regional record, so it doesn't help us nor hurt us," Honomichl said of the St. James and Central Heights games. "It's one of those things where it's probably better to play games than it is just to practice."
BHS will play Saint James at 6:15 p.m. Monday in the regional tournament. BHS has drawn the No. 1 seed in the tournament.