SLT

route through Baker Wetlands supported
Federal Highway Administration supports
SLT

route through Baker Wetlands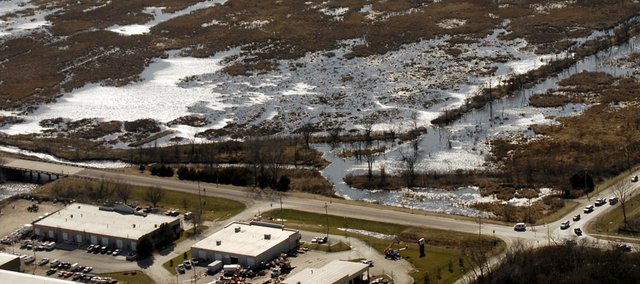 The Federal Highway Administration officially has thrown its support behind construction of the South Lawrence Trafficway along a route through the Baker Wetlands.
The feds signed off on the final environmental impact statement for the road earlier this month.
The move opens the possibility for the state to use federal funds to partly pay for construction of the SLT.
A start date for the $148 million project remains uncertain -- due in part to threat of a lawsuit from opponents to an alignment through the Baker Wetlands, as well as an unclear transportation funding picture at the state level.
The five-mile stretch of road would connect the link the western portion of the road with K-10 highway southeast of Lawrence.
The official record of decision is available on the South Lawrence Trafficway Web site at www.southlawrencetrafficway.org.
The Final EIS released by the U.S. Army Corps of Engineers is available in CD-ROM format by contacting the KDOT Bureau of Design at 785-296-3901 or 1-877-550-5368 (toll-free in Kansas).
The record of decision will be available after May 7 during normal business hours at:
-- Federal Highway Administration, 6111 SW 29th St., Suite 100, Topeka.
-- Kansas Department of Transportation, Bureau of Design, 11th Floor, Eisenhower State Office Building, 700 SW Harrison, Topeka.
-- Haskell Indian Nations University Library, Tommaney Hall, Haskell Indian Nations University, Lawrence.
-- Anschutz Library, Kansas University, 1301 Hoch Auditoria Drive, Lawrence.
-- Lawrence Public Library, Local Document Collection, 707 Vt., Lawrence.
-- Douglas County Public Works Department, 1242 Mass., Lawrence.
-- Lawrence/Douglas County Metropolitan Planning Office, 1st Fl., City Hall, 6 East Sixth St., Lawrence.
-- Baker University Collins Library, 606 8th Street, Baldwin.