Wind storm rips through Baldwin City area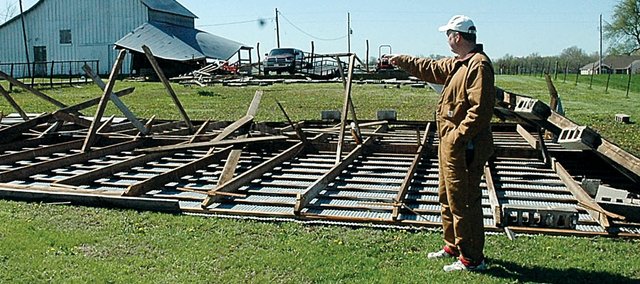 Photo Gallery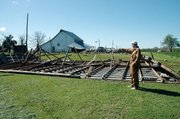 May 2 Storm Damage
A wind storm ripped through the Baldwin City area early Friday morning and caused damage at various locations.
Winds clocked as high as 80 mph slammed the Baldwin City area early Friday morning, snapping trees, knocking down barns and sending rain hurricane-like in a sideways sheet.
Damage reports are still filtering in, but most agree it could have been worse. No one was hurt. Mike Brungardt had called the city about a tree in his front yard at 920 Grove Thursday. He was concerned that if the old tree went, it would take out a power line. He watched in amazement around 1:15 a.m. Friday when half of that scenario played out.
"I looked out and it was hanging over the lines and was going," said Brungardt. "Then, the tree did a pirouette and fell where it is. It missed almost everything. It didn't take the power line and didn't hit any of the planters. It did take the cable line and that little maple tree, but Mary (his wife) said that's OK.
"The Lord works in strange and mysterious ways," he said.
A few blocks south of there, Ed and Phyllis Booth lost a 30-foot Bradford pear tree. The wind, hail and rain was whipping around their home at 1016 Jersey so much that they didn't hear anything when the tree snapped like kindling.
"It was so noisy," said Ed Booth. "We couldn't hear anything. When I looked out in the back yard, it looked different, but I didn't know why. Then I realized the Bradford pear was gone.
"The wind was going 80 miles an hour," said Booth. "We only got 7 tenths (of an inch of rain), but the rain was going sideways."
There were also reports of barn damage at Blake McCall's home at 1474 N. 300 Rd. and other wind damage at Alden Bradley's home three miles east of Vinland.
At Blake McCall's place about two miles west of Baldwin City on U.S. Highway 56, the wind took a roof on a garage area attached to a barn. However, the truck and lawnmower that were housed underneath it suffered only minor damage.
Like others, he didn't hear any noise when the roof went because of all the other noise going on.
"All I could hear was the hail hitting the roof and the wind," said McCall, a member of the Douglas County Sheriff's department. "I looked out and could see things flying all around."
He was just glad it was the barn that was damaged.
"It didn't do anything to the house, which is lucky," he said. "With an old house like that, you never know."
Alden Bradley has similar thoughts. He lost an old barn and farrowing house, had a lot of tree damage and sheet metal scattered everywhere. But, the house was fine. The outbuildings had been around for decades and it was a different matter for them.
"Those have stood up to the wind for years. Not this time," said Bradley.
Bradley and his wife were awakened by the storm.
"It woke us up," he said. "We had the window open and you could hear the wind, rain and hail. I went downstairs and looked out and could see stuff flying."
His wife, Mary Ann, went a bit further with the sound.
"It sounded like a train coming," she said of the proverbial sound of a tornado.
She would have preferred that the wind had taken an old garage that's falling down rather than the buildings it did.
"That thing is still standing," she said. "I wish it would have taken it instead."
Baldwin City had a brief power outage when the feed from KCPL was lost. But, it only lasted a few minutes in most areas of town.
"Based on the winds that blew through Baldwin last night, we made it through the storm extremely well," said City Administrator Jeff Dingman. "The power was off just long enough for the re-closing devices on the 34.5 line to activate and re-close the line, which was about a minute.
"As far as I know, there was no major damage or prolonged outage," said Dingman.