Wildcats take third at
HAAC

track meet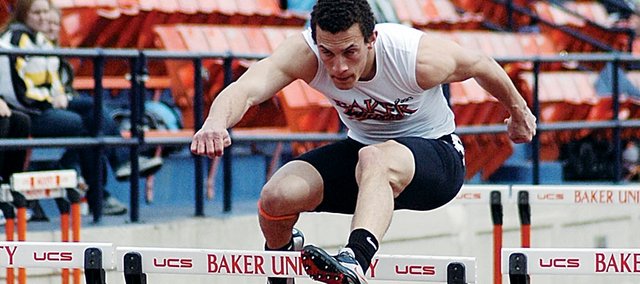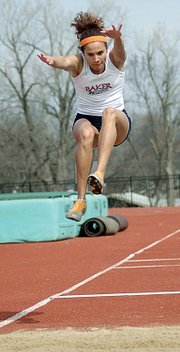 Zach Kindler had quite an impressive first showing at the Heart of America Athletic Conference Track and Field meet over the weekend in Fayette, Mo.
He brought home two third-place plaques and the conference women's coach of the year honors. Not bad for Baker University's first-year head coach.
"I was very excited about the way the athletes performed," Kindler said. "It was definitely exciting to bring two third places back to Baker University and we are proud of how hard they worked."
The Baker women cruised to third place as they scored 145 points, while fourth-place Central Methodist scored 67 points.
"On the ladies' side, we did really well there," Kindler said. "We still had some bumbles in some races. (Ashlee) Miller didn't make the 110 (hurdles) finals and she was ranked second coming in. We had some throwers that should have placed higher. But, we had some other ladies step up and do a great job for us."
On the men's side, Baker and Central Methodist tied for third with 104 points. Lindenwood and MidAmerica Nazarene easily placed first and second in both men's and women's standings.
"On the guys' side, it came down to the very last race," Kindler said. "I asked to our guys and asked which four guys would do the best job for us. We ended up getting third and Central Methodist got sixth, so we tied them with 104 points."
The Wildcat women's team brought home a trio of titles from the conference meet. Individual champions were junior Chelsey Ornburn in the pole vault (11 feet, 1.75 inches) and sophomore Ashlee Miller in the long jump (17-2.25). Baker's 1,600-meter relay won the final event with a school-record time of 3:58.66.
Although Ornburn came into the weekend's meet as the defending HAAC champion in the pole vault, she is cautious and nervous about her performance. In the end, though, she was excited to win again.
"Just like every time before, winning the conference title in the vault was unbelievable," Ornburn said. "Each year, each season, I get so nervous to compete because I know a lot is riding on my performance at the second biggest meet of the season. Since I'm currently two-time defending champ indoor and outdoor, someone might come out and bust an outstanding, unexpected performance, just meaning I have to go out there and do the same."
The 1,600-relay team consisted of sophomore Kelsey Heckathorne, sophomore Katey Wegemer, freshman Chelsea Twietmeyer and Miller. Although the race didn't affect Baker's team standings, the group of Wildcats went out and won the race over MidAmerica's team.
"All year we knew they were going to run well," Kindler said. "They were third at conference indoor and qualified for nationals. Then in outdoor, they knew we had third place wrapped up team-wise, but they knew they could possibly win the race after a tough two-day meet. They were all tired, but they all stepped up and did what they needed to be. It was very impressive."
On the men's side, sophomore Aaron Hannon led the way by scoring in four individual events and two relays. The 2006 Baldwin High School graduate won the 400-meter hurdles in a time of 55.38. A teammate of his at BHS and now at Baker, sophomore Matt James, finished just behind Hannon in the race, as he ran 55.39.
"What was really exciting about it is that two Baldwin guys went 1-2 in the 400 hurdles," Kindler said. "It was tough for Matt James, because during his high school career, Aaron was right there ahead of him. Aaron hadn't run the 400 hurdles all year, because we are specializing him in the decathlon for nationals. Matt has been our 400 hurdle that we go to, then Aaron beats him over the weekend in his first 400 hurdle race of the year."
He added that the two Wildcats might have run faster and the outcome could have been different if they were in the same heat.
"They were in different heats because Aaron didn't have a time coming in and Matt had the second-best time," he said. "I think if they would have been in the same heat, you would have seen better times and a better race between them because of it."
Another former Bulldog who did well at the meet was Heckathorne, also a 2006 BHS graduate. She finished fourth in the 400-meter dash with a 58.89 time, second best all time at Baker. Heckathorne also placed in the 200-meter dash, running 26.27 and placing seventh.
"Kelsey is really coming on," Kindler said. "She has had an outstanding year. We tried something different with her this year. She ran cross country with us to get more of a base for her. It's really worked out terrific, because she is running so well right now. She ran a personal best in the 200 and 400 this weekend.
"She has got a situation where she is going to nursing school next year, so she is struggling to decide which is more important right now," he said. "We are excited that she is going to be able to continue her great education and be a nurse one day."
Other notable performances from the Baker teams were junior Ari Penner, third in the 300-meter racewalk in 19:48, second all-time at Baker; sophomore Mikayla Medlock, third in the 3,000-meter steeplechase in 11:49, second all-time at Baker; sophomore Carrie Lister, fourth in the shot put with a 39-8.75 toss, second all-time; and Wegemer, second in the heptathlon for the second consecutive year.
Baker's 400-meter relay team of freshman Laniesha Douglas, Miller, junior Kayla Irwin and Ornburn placed third in 49.31 to qualify for nationals.
"After running the finals of the 4x100 on Saturday, (assistant coach) Mackie (Valentin) chased me down saying he thought we hit the qualifying mark, and I didn't believe him," Ornburn said. "Not only would it be a qualifying mark, but also a new school record. I always considered myself a vaulter who ran on occasion. Never in my life would I have thought I would be a part of a national qualifying 4x100 relay team."
Senior Richie Bryant was Baker's other individual champion on the men's side. He won the long jump in 23-7. Hannon was second in the event with a 21-9.5 mark.
Sophomore sprinter Kome Okiomah placed second in the 200-meter dash (21.97) and third in the 100-meter dash (10.88).
Okiomah, Hannon and Bryant teamed with junior Trevor Gleason to place second in the 400 relay (41.92).
"All season and especially at this meet, we talked about competing as a team and working together as a team," Kindler said.