No bond answers yet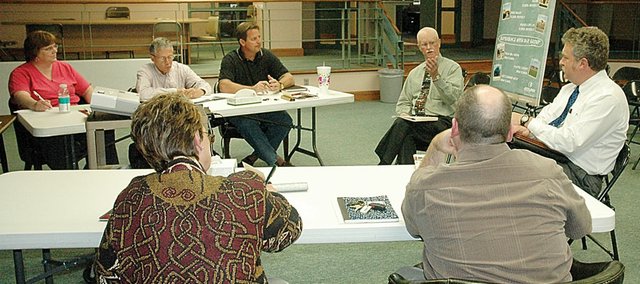 Too many unanswered questions regarding the cost of a construction company have postponed the next step toward a bond issue.
After listening to three presentations, the Baldwin School Board discussed its facilities' committee recommendation briefly. No decision came from Monday's meeting, but Supt. Paul Dorathy reminded the board of its original deadline that it set for the possible $22.5 million bond issue.
"Let's just remember a timeline here," Dorathy said. "You don't have to make a decision tonight, but if you're still shooting for the May 12 meeting, you need to remember the group you choose will need time to reach that deadline."
The decision about which construction company to hire has only been tabled until Monday, which has pushed the May 12 deadline back to May 19. Another special meeting has been called for 7 p.m. Monday to finalize this decision.
It will be the third straight week the school board has held a meeting. There will be two more weeks of Monday meetings to follow, one of which is the regular monthly meeting and the other has been called to decide on the bond issue.
"It sounds like you guys want more information before you make a decision. Is that true?" Dorathy said to the school board.
"I am close, but I would like to see a little bit more information," Board Member Ande Parks said.
The school board members gave Dorathy some directions of what they wanted answered for Monday's meeting, which they hope to be short. Dorathy agreed to find out what he could from the companies and the DLR architects, which the district has hired to help the bond issue.
"I am going to search out more information and more recent references," he said. "I am going to work out oranges to oranges on the fee structure. I am also going to find out how much was added into the facilities' recommendation."
This week's meeting was called to order to hear presentations from three construction management companies, similar to what the board did for architectural firms a year ago. The three companies were Universal Construction, JE Dunn and Manning Construction.
Each company was given 30 minutes to give its presentation and answer a few questions from school board members. The board asked similar questions to each group, which usually dealt with their fee structure or how they handle their bid process to sub-contractors.
After the presenters were done, the board discussed the companies. Universal and Manning seemed to be the two favorites as some board members voiced their opinions.
"I thought Universal and Manning were the best presenters," School Board member Bill Busby said. "I would like to go with the one that could give us the best deal."
Board Member Blaine Cone was impressed by a couple of things Universal had to offer, such as having two field managers, one for each site - one near the Baldwin Elementary School Intermediate Center and the other at Baldwin Junior High School and north of the parking lot.
"One thing I think we had a problem with the last time we did construction was not knowing where the project manager was," Cone said. "That's why I liked the idea of having one guy at each site. I also like their fail-safe plan for the ball fields."
In the end, the decision came down to dollar figures. The companies gave percentages of what they might charge the district if they are hired, but the board members wanted a solid figure from each company. That was advice Dorathy was given from John Fuller, DLR architect.
"The advice I got from John Fuller is to get a capped fee from all of the companies," Dorathy said. "With that price capped, there won't be any problems down the road. That is what he said."
Dorathy said he would try to get that cost from each company before Monday's meeting. That meeting will begin at 7 p.m. at the district office and there will be a public comment section on the agenda before the board begins its discussion.