BJHS

teams continue to break records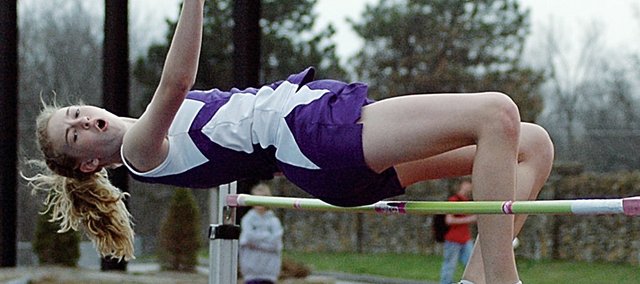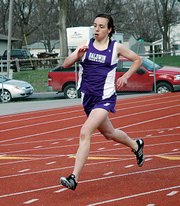 Baldwin Junior High School track records continue to drop with each meet the Bulldogs compete at.
During the last several meets, the seventh and eighth grade teams keep knocking off school records. They have one last meet, the Frontier League competition Saturday at Ottawa, to break any additional records this season.
At the most recent meet, seventh grader Monica Howard broke the long jump record. She jumped 15 feet, 1 inch to break the 24-year old record.
Last Thursday, the BJHS teams set five new school records at the Wellsville track meet. Seventh grader Austin Kraus improved his 100-meter hurdles record to 15.7. Fellow seventh grader Kaitlyn Barnes broke the 100 hurdles record, running 16.7.
Barnes and Howard also helped improve their 1,600-meter relay record at 4:32.8. The other team members were Elena Watson and Kailyn Smith.
Two eighth grade boys' relay records were also broken. The 400-meter relay record is now 48.1, which was also a meet record. The relay members were Will Simmons, Britton Schroeder, Brandon Schmidt and Shawn Berndt.
The other record was set in the 1,600-relay. The team of Brian Wright, Berndt, Simmons and Schroeder ran 3:49.5, which was another meet record.
At the previous meet, which was at Central Heights on April 22, Wright broke the eighth grade boys' 1,600-meter run record. It was held by Matt Noonan, a 2002 Baldwin High School graduate who won numerous state championships as a Bulldog. Wright ran 4:49.9 to beat the record by more than two seconds.
Wright has also broken Noonan's 800-meter run record. He ran 2:07.4 at the Bulldogs' home meet April 17.
At the same meet, two other BJHS records also went down. The eighth grade boys' sprint medley relay was broken. The team of Berndt, Schmidt, Schroeder and Wright ran 1:44.7 to set the new record.
The seventh grade girls' sprint medley relay record was also broken at the home meet. The Bulldogs ran 2:00.2. The team members were Barnes, Howard, Smith and Watson.
Saturday's league meet will begin at 9 a.m. in Gardner. Wheatridge will be hosting the meet.