Baker Orange gains honors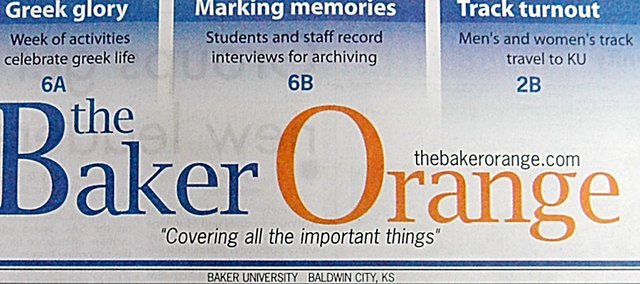 Baker University journalism students received top recognition at two contests in April.
The Baker Orange staff received 15 first-place awards during the Kansas Associated Collegiate Press annual conference April 6-7 in Wichita. The Orange captured the All-Kansas Award for four-year private college newspapers. Orange editor Jenalea Myers was named Journalist of the Year for four-year college and university papers.
It marked the ninth time in the past 11 years that the Orange has won the top honor. Gwyn Mellinger, associate professor and chair of the mass media and communication department, is faculty adviser to the Orange.
TheBakerOrange.com, the newspaper's converged online site, received a gold medal in the overall competition. David Bostwick, assistant professor of communication, is adviser to the online site.
On April 7 in Ames, Iowa, the Orange staff received several awards in the Region 7 Mark of Excellence competition. The online site also is a finalist in the national Pacemaker competition. Chansi Long is editor of the online site.
The Orange received a second-place award in the Best All-Around Non-Daily Newspaper competition.
Individual staff members received the following awards in the Society of Professional Journalists Region 7 Mark of Excellence contest. First-place winners automatically qualify for the national Mark of Excellence contest.
First place
Jenalea Myers, Cummings, editorial writing; Taylor Freburg, Omaha, Neb., editorial writing; Wes Mikel, Shawnee, editorial writing and online feature reporting; Cyrus Oliver II, Ottawa, editorial cartooning; Chansi Long, Sedan, online feature reporting
Third place
Kirbee Yost, Chetopa, breaking news reporting
Members of the staff received the following individual awards in the Kansas Associated Collegiate Press contest:
First place
Amanda Pratt, Wellington, editorials; Amanda Stirn, Salina, review writing; Chad O'Bryhim, Overbrook, infographics and illustration; Chansi Long, Sedan, columns, series and multimedia storytelling; Christopher D. Smith, Overland Park, sports features, sports columns; Emily Hink, Shawnee, sports photography; Jenalea Myers, Cummings, four-year newspaper Journalist of the Year; Kirbee Yost, Chetopa, feature writing; Laura Langseth, Shawnee, feature photography; Peter Matulka, Olathe, single ad design; Taylor Freburg, Omaha, Neb., headlines; Wes Mikel, Shawnee, multimedia storytelling; Baker Orange staff, special section
Second place
Ashley Fischer, Hiawatha, illustration; Smith, sports columns; Courtney Servaes, Atchison, infographics, illustration and front page design; Cyrus Oliver, Ottawa, cartoons; Jeff Jones, Baldwin City, photo; Myers, copy editing; Yost, news writing; Lauren Shufelberger, Topeka, sports news; Sharon Stauffer, Frankfort, news writing; Mikel, multimedia storytelling and photo essay
Third place
Fischer, headlines and interior page design; Chelsea Twietmeyer, Cheney, multimedia storytelling; Servaes, series; Hollie Procter, multimedia storytelling; Yost, news writing
Honorable mention
Stirn, review writing; Amanda Helm, Baldwin City, review writing; Fischer, interior page design; Cortney Harding, Edwardsville, photography; Servaes, interior page design, news photography; Emily Hink, Shawnee, feature photography, photo essay; Jones, photo; Myers, editorials; Yost, Chetopa, headlines; Kyle Davis, Topeka, sports feature; Mikel, photo essay