Fast start for Bulldogs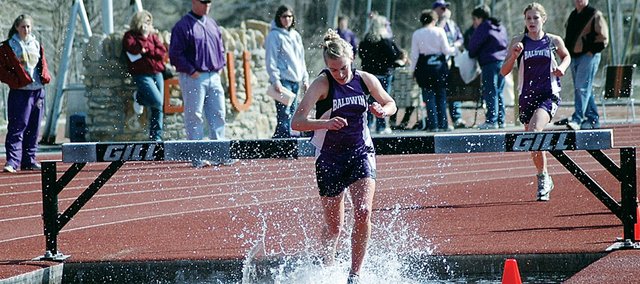 Related document
Friday night was a terrific start for the Baldwin High School track teams.
Both BHS squads placed in the top three of the Baldwin Invitational, which was the first meet of the season for the Bulldogs.
The BHS girls dominated their competition by scoring 143 points as a team. Eudora placed second with 99 and De Soto finished third by scoring 81.5 points.
BHS won six events on the girls' side. Senior Courtney Harris won the javelin with a toss of 124 feet, 2 inches. The 3,200-meter relay beat its nearest competition by nearly 23 seconds as it ran 11:03.92. The relay members were junior Corinna Papps, junior Calleigh Durr, sophomore Connor Twombly and sophomore Julie Hill.
Baldwin swept the 2,000-meter steeplechase Friday afternoon. Papps won the race in a time of 8:28.03. Twombly and Durr finished second and third.
BHS senior Heather Garcia began her final campaign with a clean sweep of her three individual events. She won the 800-meter run (2:30.58), 1,600-meter run (5:37.21) and 3,200-meter run (12:32.54).
The Baldwin boys' team place third with 92 points as Pittsburg (113 points) and Bonner Springs (100.5) finished first and second, respectively.
The Bulldogs won four events Friday. Senior Beau Elder won the shot put with a toss of 48 feet, 11 inches. Freshman Tony Weiss was the other individual winner as he won the 3,200-meter run in a time of 10:37.73.
Baldwin also won the 1,600-meter and 3,200-meter relays. The 1,600 relay team consisted of senior Kyle Smith, junior Connor Wright, Freshman Carson Barnes and senior Dustin Schiller. The 3,200 relay team was Barnes, Schiller, Wright and senior Aaron Karlin.
Check Thursday's Signal for full coverage on the meet.