Egg hunt moved inside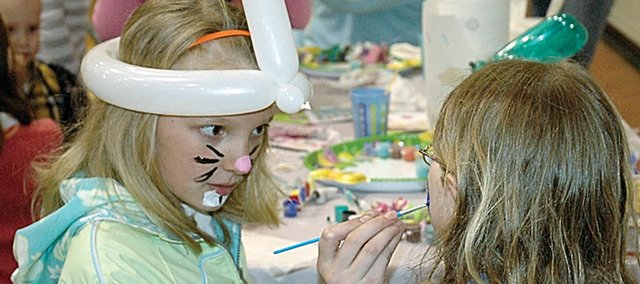 Well, the weather didn't quite cooperate, but that didn't stop hundreds of local children from having a blast Saturday morning.
For the second straight year, Rainbow Experience Preschool's annual Easter Egg Hunt and Silent Auction was moved inside Collins Center. The event was scheduled to be held in the middle of Baker University's campus, but temperatures near 40 degrees forced event coordinator Christie Lund to change venues.
"It was a hard call to make," Lund said. "The early morning temperatures were a little chillier than we wanted them to be. I do think it helped people stay around longer, because it was warmer inside. The kids stayed and enjoyed the games and activities after the egg hunt."
Lund was correct. The children sat on the Easter Bunny's lap, jumped in the moonwalk bouncer, watched clowns make balloon animals and played several games before and after the main event - the egg hunt.
An estimation of the crowd by Lund projected the crowd to be bigger than a year ago, which pleased her.
"This year was wonderful," Lund said. "We had a nice big crowd. It was a little larger than last year. The addition of the moonwalk was good for everybody. We hope it continues to get bigger and better each year."
Rainbow Experience Preschool raised $1,745 from the silent auction, which was more than last year's auction brought in. That money directly impacts the preschool and its children.
"It definitely goes up each year," Lund said of the money raised by the auction. "We had a ton of great baskets. It was wonderful."
Rainbow also earned $175 from the pictures with the Easter Bunny. The Knights of Columbus group takes those pictures and gives all of the profits back to the preschool.
Once again Mid-America Bank was the sponsor for the annual event. Lund is already looking forward to next year and is hoping the weather will cooperate.
"Hopefully, Easter will be in April next year and, hopefully, it will be warm," Lund said. "We want to have it outside again."