Bond issue chat continued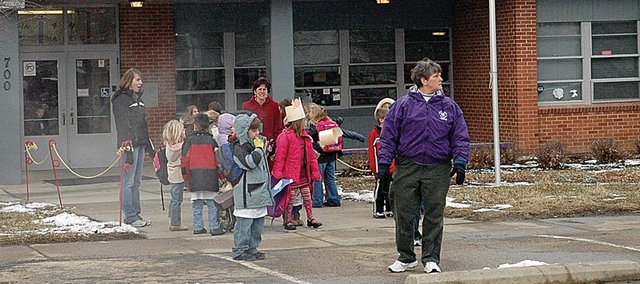 Questions still loom and a decision is still pending, but the Baldwin School Board is taking steps to reach its self-assigned May deadline to determine what it will ask in a bond issue.
The latest action was listening to advantages and disadvantages between using construction management and general contractors for its construction if a bond issue were approved. Tom Manning of Manning Construction Company, Inc., made a presentation to the school board Monday.
"This is a really informal presentation but feel free to ask any questions at any time," Manning said to the board. "This is here to help you better understand construction management versus general construction."
Manning and two representatives talked to the board about construction management and general contractors, but they primarily named advantages for choosing construction management. They presented a slide show listing the differences and explained how each different type of construction crew handles phases off their projects.
"The main thing with construction management is your interest is first," Manning said. "They work for a fixed fee. We get your work with our work. They work for you.
"General contracting is about the profit margin and how much money they can make for that job," Manning said.
Manning's company has worked on several projects in the area, including renovations to Wheatridge Middle School and Edgerton Elementary School in the Gardner-Edgerton district. They worked with the DLR Group, who was hired by the Baldwin district last year to help with a bond issue, in both of those projects.
After the presentation, Board President Alison Bauer asked Manning about what benefits his company receives if a district or company chooses to go the construction management way. He said his company's reputation is on the line when it is hired, so it always wants to do its best job.
"If we do a good job for you, then we get a job at Wellsville or Edgerton or somewhere else," Manning said. "Our reputation is on the line and we have to do a good job if we want more jobs in the area."
After the meeting, Bauer said she was pleased with the presentation and the information presented. She also said it gives the board a better idea about what direction it might head.
"I thought it was very interesting," Bauer said. "When you think about things going to the lowest bidder, you think that's going to save us the most money. You also have to remember they are looking at the profit margin. The cheaper they can get it done, the better they like it. That doesn't always insure the highest quality product for our dollars.
"If we can insure a high-quality product for the same or even less amount of money using a construction management approach, then we have an obligation to look at doing it that way," Bauer said. "It was good to hear it from somebody who does both approaches and why they think one way is better than the other."
Later in Monday's meeting, the school board continued its discussion of the facilities' committee recommendation from its March 10 meeting. Bauer, who was absent from the previous meeting, had to catch up and ask a few questions to her fellow board members.
She wondered what she missed and how the other board members felt about the recommendation for a $22.5 million bond issue that included a new Baldwin Elementary School Primary Center, auditorium, ball fields, practice track and renovations to Baldwin Junior High School.
Board Member Scott Lauridsen helped Bauer catch up on what she missed, but also said that the recommendation is nice to have, however, the board must be the one to make the final decision.
"At some point we have to decide if we are going forward with the bond and then decide what that bond will look like," Lauridsen said. "At some point we need to stop discussing and start deciding what we want to do with facilities in this district."
The board members also reviewed the recommendation and why certain items were included in it. They also discussed the long-range plan that was also recommended by the committee and what might trigger another bond issue in the future. No decision was made, but Bauer has a feeling another special meeting will be in store during the next month.
"I think the board is going to ultimately decide in May if this recommendation can be supported," Bauer said. "We've got questions that can be answered at the April meeting. I think we will probably have another meeting like this in April, because we will still have more questions."