BIT

set to roll today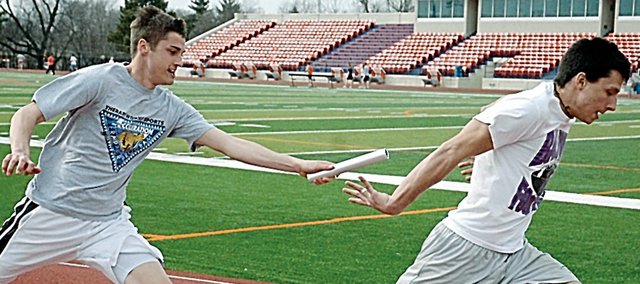 Local track and field fans will once again have the opportunity to watch high school athletes competing here in Baldwin City on Friday.
For their only home meet of the year, Baldwin High School hosts the annual Baldwin Invitational at Baker University's Liston Stadium Friday, beginning at 3:30 p.m.
"We are starting to get excited about Friday," BHS girls' track coach Ted Zuzzio said. "It's our first meet and it's our first home meet. We are ready to start competing."
The same can be said for the BHS boys' team. Coach Mike Spielman said his Bulldogs are anxious to begin competition.
"I think we are starting to get there now," Spielman said. "It's nice to get back into the swing of having school and practice. We are going to try some different people at some different events and, hopefully, everything kind of falls into place."
Both BHS teams return several Bulldogs that competed at the state meet last May. Along with them, BHS had added some talented freshmen in many events. Both coaches look to have a balanced team, especially Spielman.
"I think we are going to score a little bit in all of the events," Spielman said. "That balance is going to be nice for us."
Zuzzio is hoping his three relay teams will be strong, but he's not sure if they will be early in the season.
"It's sort of different," Zuzzio said. "We are starting to put some relays together. We are trying to figure out where our team strengths and weaknesses are."
Both teams have been battling with other school activities for the student-athletes' time. Monday was the first day in nearly three weeks that both teams have had complete rosters at practice.
One of those Bulldogs that has missed nearly three weeks of practice is senior Heather Garcia. Despite her time in Costa Rica and on a cruise for spring break, she found time to stay conditioned for track.
"I had a really good workout yesterday, so I'm not too worried about it," Garcia said. "I feel pretty good now. We'll just see how Friday goes.
"On the cruise, I worked out everyday," Garcia said. "I felt pretty good about that. I think I'm in pretty good shape."
Garcia is the two-time defending Class 4A state champion in the 1,600 and 3,200-meter runs. She has also placed second in the 800-meter run during the past two years.
She has signed a letter of intent to run at Boston College next year. She is hoping to enjoy her final season as a Bulldog, while relaxing and just running.
"This is my last season, so I want to do really good," Garcia said. "I just want to compete. There is no pressure this time, so I feel like I will just be able to go run. It's nice."
BHS will have two weeks before it next competes at a meet after Friday's home meet. The coaches will enjoy the time to evaluate their teams before the KT Woodman Invitational on April 11.
"We have a week for the varsity to practice and figure out who is where," Spielman said. "It gives us a chance to get things lined up."
Friday's meet begins at 3:30 p.m. from Liston Stadium.
Check the Signal's Web site at www.baldwincity.com for brief results after the meet.