Young local voters among those at political forefront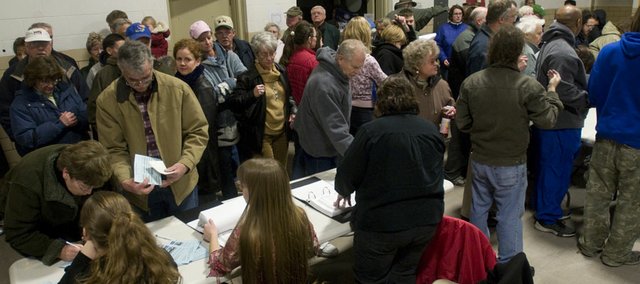 While young voters are not known for their political involvement, usually voting in lower numbers than any other age bloc, this primary season has seen a surge in youth participation. That includes voters in Baldwin City.
Although all three remaining candidates have attempted to win the youth vote, through appearances on college campuses across the country and by creating pages on Facebook, a Web site popular among younger voters, Sen. Barack Obama has emerged as the youth vote's favored candidate. According to a study done by Rock the Vote, a group dedicated to increasing young voter turnout, 86 percent of voters under the age of 30 report that they are excited about Obama, while only 69 and 51 percent were excited about Hillary Clinton and John McCain, respectively.
And some of Obama's most ardent support comes from voters who would not even be eligible to vote if the general election were held today.
Only 17 years old, Logan Keener, a Baldwin High School senior, has become involved in Sen. Obama's presidential bid, answering phones, canvassing in Iowa and organizing a busing system to get people from rural areas to the polls on Kansas's caucus day.
"I like that Obama has run a grass-roots campaign that lets people my age get involved," Keener said. "It was a big gamble and I think it paid off."
Under Kansas law, voters who turn 18 before the general election in November are eligible to vote in the caucuses, allowing Keener, who turns 18 on May 3, to participate in the Kansas caucuses, which took place on Feb. 5.
Keener describes his first caucus experience as "inspirational."
"The room was packed, and the enthusiasm was incredible," Keener said. "It was great to be a part of it. It makes you proud to be an American."
Keener served as precinct captain at his caucus site, which voted for Obama over Clinton, his rival in the Democratic nomination race, by a ratio of 5 to 1. Keener will go to the Congressional District Convention on April 12, where he will help choose the state's delegation to the Democratic National Convention in Denver.
Keener said serving in such an important role did not intimidate him, even though he was younger than the other participants.
"Everyone was really nice and treated me as an adult," Keener said. "We worked together as colleagues to decide who was best for the nomination."
Keener's enthusiasm has attracted other voters his age to the election process, such as his friend Cameron Scruggs, another senior at Baldwin High School.
Scruggs said Keener inspired him to take part in the Obama campaign, working the phones and walking door to door in the days preceding the caucus.
"I think my generation is sick of sitting on the sidelines and just watching the political process," Scruggs said. "We're definitely ready to get out there and rock the vote."
Scruggs and Keener both respect Obama for speaking out against the Iraq War from the beginning, which they said was an example of an elected official exercising sound judgment, even when politically unpopular.
They also said they thought that Obama has enough experience to lead the country, despite attacks from Clinton and McCain, the Republican nominee, who have both said Obama was too inexperienced to be president.
________________________________________________________________________
Leaders from both political parties have been impressed with the amount of young involvement in this primary season.
Corrie Kangas, political director of the Kansas Republican Party, thinks young voters play a crucial role in the political process.
"They bring fresh ideas and a different perspective to a lot of different issues," Kangas said.
Kangas also said it's important for youth to be involved in politics because a lot of the decisions elected officials make today, such as those regarding Social Security, will be felt by young people in the future.
And although polls have shown young voters increasingly voting Democratic, Kangas said she thought young voters still identified with the ideas of the Republican Party.
"I don't think they're leaning more toward the Democratic Party," Kangas said. "I think if you look at it across the board, there are just as many who are interested in Republicans, because we've got the ideas to fix the country."
Tom Hartley, chair of the Douglas County Democratic Party, said the energy of young voters has impressed him.
"I think they're willing and eager to do the hard work of campaigning," Hartley said. "The grunt work, the phone calling, the going door to door, that can really make a difference in the way an election turns out."
Hartley has found young people to be well informed about the candidates' positions, knowing just as much about political issues as their older peers within the party.
"Young people are just excited about these candidates and this election," Hartley said. "They feel they have a real role in shaping America's future."