Easter events set for Saturday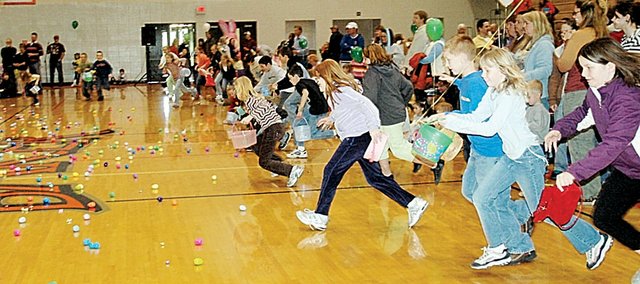 When asked about this year's annual Easter egg hunt, Christie Lund doesn't want a repeat of last year's event.
Rainbow Experience Preschool was forced to move its annual egg hunt inside a year ago. Gusty winds and temperatures in the 30-40 degree range made the decision a no-brainer. Lund, this year's event coordinator, is hoping to keep the annual egg hunt outside and in the middle of Baker University's campus.
"With more space outside, it's more fun for everyone involved," Lund said. "We're hoping for good weather this year, because we want to stay outside."
Despite the desire to remain outside from 10 a.m. to noon Saturday, Lund said the preschool and egg hunt sponsor MidAmerica Bank are prepared to move the event into Collins Gym.
The weather that would move the event inside is rain, high winds or temperatures below 40 degrees, according to Lund.
"We would rather be outside, absolutely," Lund said. "We hope to keep it outside, but if there is inclement weather, we will move it inside Collins Gym."
Whether the event is inside or outside is not certain yet, but what is certain is the number of activities and games for children of all ages. Of course, the main event for the day is the egg hunt, which begins at 11 a.m.
There are five age groups for the egg hunt. They are 2-and-under, 3-4-year-olds, 5-6-year-olds, 7-8-year-olds and 9-and-up. The 2-and-under children begin at 11 a.m. with the other groups starting every five minutes after each other.
"It's a very worthwhile event and a great thing for the community," Lund said. "I'm really looking forward to it."
The other attraction Saturday morning will be the silent auction, which begins at 10 a.m. Once again there will be a variety of baskets to bid on for more than an hour. Auction coordinator, Shanaye McBride, said it will end around 11:15 a.m. or 11:30 a.m.
"There will probably be a theme again," McBride said. "It will be very similar to last year. We're still getting stuff in, so we're not sure how many baskets there will be."
Along with the egg hunt and silent auction, there will be the usual assortment of games and activities for the children. Those include free balloons, races, face painting, photographs with the Easter Bunny and a new event, an inflatable moonwalk.
"The games and activities are very fun for the kids," Lund said, "The older kids will have the moonwalk to jump around in this year."
MidAmerica Bank will be handing out the free balloons again this year. Dave Hill, MidAmerica Bank president, is happy to be a part of this annual event.
"This is one of the fun things to sponsor," Hill said. "It's a great event, because there are three generations of families that attend - parents, grandparents and the kids. It's a fun event and we love sponsoring it. We are hoping for beautiful weather and lots of candy."
Another Easter event on Saturday will be the Midland Railway Egg Hunt Train. Trains will be departing from the depot at 10:30 a.m., 1 p.m. and 3:30 p.m. The egg hunt is available for children ages 12-and-under. Along with the egg hunt, children can take their picture with the Easter Bunny. The cost for the event is $10 for adults, $5 for children 12-and-under and babies being carried in arms are free.