Dorathy lauds district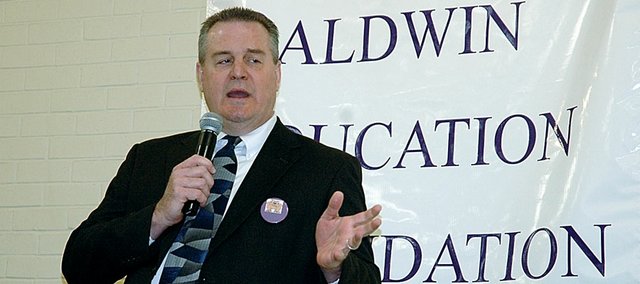 Despite a larger crowd than a year ago, the Baldwin Education Foundation ended up with nearly $1,800 less than it had before the second annual State of the District Breakfast.
Last Thursday's event at Baker University's Harter Union saw $3,800 brought in and $5,644 given out to the Baldwin School District's six principals.
"We had a really great event," Gerstner said. "I felt like everyone enjoyed themselves. Baker is so generous and it works so well over there when they are on spring break. It was a celebration of education for our students and staff. It's great to be a part of this district."
This year's breakfast was served to more than 140 people, which raised $3,800 for the BEF. Last year's event brought in $2,500. The $3,800 will once again be funding the BEF's innovative grants that are awarded in the fall to a handful of district teachers.
"We had a great turnout," Gerstner said. "We want to keep growing and getting bigger. I think we improved on last year."
The money that was distributed to the principals came from donations, most of which came from alumni, and a couple of fundraisers. Each building was given a portion of the $5,644. The education foundation board gave each building $4 per student.
Along with the financial part of the breakfast, there was a performance by members of the Baldwin High School choir, a video made by BHS students and, of course, the keynote address by Supt. Paul Dorathy.
Five BHS students sang two songs to kick off the event. They were Sam Cooper, Brad Canterbury, Matt Giarraputo, Marianne Sansom and Malissa Sansom.
The video featured several teachers that were awarded the innovative grants in the fall. Several students in one of BHS teacher Patty Lenning's class created the video.
"The choir kids did a wonderful job, considering it was their first day of spring break and it was 7 a.m.," Gerstner said. "I was glad they were able to be a part of the celebration."
The primary event of Thursday's breakfast was the keynote address by Dorathy. He spoke for nearly 15 minutes about several areas that the district is looking to improve in the next year or has improved during the past year. Those included security, technology, communication, facilities and the financial status of the district.
"For those of you that were here last year, you know I spoke of comparisons to "Test Track," the ride at Disneyworld, with all of its twists, shimmies and turns," Dorathy said. "This year I can really say it's more like a smoothed-out fast track. We'll leave "Test Track" behind, literally."
Dorathy began his speech talking about the financial status of the district. He said the district has overcome its $278,000 deficit that was discovered in August 2006 and is now operating smoothly.
"Financially, thanks to the diligent work of our board, a lot of staff sacrifices and a lot of patrons' support, not just financially but with all of the things they donated, we overcame a $278,000 deficit in our local-option budget," Dorathy said. "This year our beginning cash balances were $1.8 million. What that did for us was allow us to pay all of our leases, all of our bond payments and we're not draining away from the money we need to pay salaries and bills. So, this year has been much better."
He continued by addressing communication, which has been one area that he wants to see improved all around the district. Dorathy mentioned the School Reach automated phone system, which the district began using in the fall. It is used to contact parents about school closings, athletic events and other news items. He also addressed the district's Web site, which has been improved since Dorathy began as superintendent in 2006.
"We continue to work toward better communication with the public," Dorathy said. "This past year we added so much to our Web site, thanks to Casey Morford. We will continue to add to this resource and we are always open to comments and suggestions on that. They have a place on there where you can suggest what you would like to see on the Web site. So don't hesitate to send them comments."
Dorathy also spoke briefly about technology in the district. He said it is vital for the students and staff to be up to date and using the newest technology available. He has also seen the teachers enjoy the technological improvements in the classrooms.
"We are continuing to implement our five-year plan that puts us on the cutting edge of technology," Dorathy said. "I have seen our technology people become extremely excited this year, because we have lots of staff asking for lots of stuff. I think once you get it in there and show them how they can use it; they get very excited about it. At first they want to share, then they don't want to share. We have to add more to that and we are going to.
"Our students have to be prepared for the 21st century workforce and technology is part of it," Dorathy said. "You're either in it or you're out. Most business people know that very well. Our students need to know how to use it and most can use it better than we can. I'm pretty sure I can't move my thumbs the way some of those kids can when texting."
Along with technology, Dorathy also addressed security upgrades. Those included the new door buzzers on each building, which allows the administrators to see who is entering their buildings. He said the district will be adding more camera systems at Baldwin Junior High School and Baldwin High School; along with adding cameras in every school bus.
"On the subject of security, this past year, in this new age we live in, whether we like it or not, we've had to make changes in our school district," Dorathy said. "It used to be that we could have our doors open all day and people could come and go anytime. We can't do that anymore, unfortunately. It's not what we want to do, but it's what we have to do. I don't like spending education dollars in that manner, but we've got to be proactive because the safety of our children is the utmost importance."
Dorathy briefly spoke about the facilities' committee that gave a recommendation to the school board about what should be included on a bond issue at last week's meeting. During his speech, he said the district will be trying to work better with local businesses during the next year.
"In the next year, we are going to make a concerted effort to make more school-business partnerships," Dorathy said. "I think our communication with the local businesses needs to be better. I think that we need to find out what they're doing and what their needs are, but at the same time I want the businesses to see what we are doing and what our needs are, so that we can cooperate together. I think that we have to have one another. I think it's very important for them to get the opportunity to work with us and know what we are doing."
To conclude his speech, Dorathy announced a few awards that students and staff members have earned during the past year. He said there were too many to name, but he listed a few of them that were of note. The last thing he said was that he was happy about the direction the district is heading.
"What it says is that we have great students and a fantastic staff in this district," Dorathy said. "I have a tremendous administrative team. I have a great board to work with. I think all of them are leading us down the fast track here. I think you're going to see education be a top priority in this community. We intend to stay at the top."