Weather troublesome … again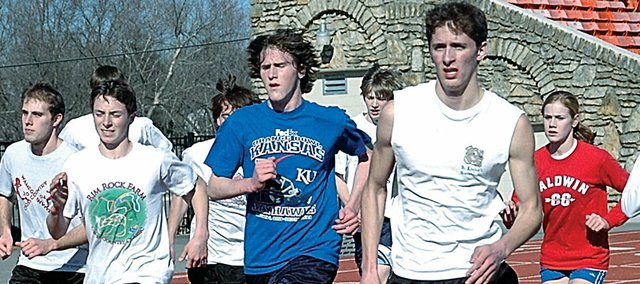 As every spring sports' season begins, the area teams battle drastically changing weather and below-average temperatures.
This year has been no exception.
Weather in Kansas is seldom consistent - especially in March. Baldwin High School spring sports teams have already seen a variety of climates during the first two weeks of practice. However, BHS isn't the only school facing problems with the weather.
"That has made things difficult," BHS baseball coach Brock Hartshorn said Tuesday of the weather. "We are all in the same area. Nobody in our league meeting today had been outside until today. It helps knowing that we are not the only team indoors."
When practice began nearly two weeks ago, the temperatures were in the 30s and 40s. There was even some snow accumulation last Thursday. However, the weather warmed up Monday and Tuesday, which has given Hartshorn some hope that his team might see action on its field. Only problem is, spring break officially starts today for the district.
"We got outside today and we should be out on our field tomorrow," Hartshorn said Tuesday. "The weather is great today and it helps with practice."
The inconsistent and soggy weather has forced the BHS baseball and softball teams to practice indoors so far this season. The limited gym space has been annoying to both players and coaches.
"It's been frustrating that we have to practice inside," senior softball player Callie Craig said. "It's all we have done so far. I just want to get outside and play. Hopefully, we will get that chance soon."
Hartshorn reiterated what Craig said, but said the baseball team has came across more problems because there isn't enough space in the gym to practice throwing the length of the base path.
"The gym is not the size of a baseball field," Hartshorn said. "You get nowhere near 90 feet to practice."
Not every BHS team has been hampered by the weather. The boys' tennis team has been outdoors practicing, despite the frigid temperatures last week. The track teams have also been out at Liston Stadium working out for the upcoming season.
Senior Aaron Karlin says the weather doesn't affect the runners' practice, because they are forced to run in most weather conditions.
"It doesn't usually affect what we do, because we run whatever we are told in any weather," Karlin said. "It's nicer when there is better weather. The last couple of days have been nice."
Mike Spielman, BHS boys' track coach, said the track teams are luckier than other squads because wet or cold weather doesn't affect their practice schedule.
"We are more fortunate than other sports when it comes to the weather," Spielman said. "We are able to get outside, do some running and practice our events."
Although the weather has once again been the story of the spring sports' season, both coaches and players are happy to be practicing their respective sports.
"For being indoors, the kids have been enthusiastic and they are working hard," Hartshorn said. "They are a goal-oriented team and they have set some pretty high goals. Most of them get in here and really get after it. Practices have been really up beat and we are excited about this season."
Craig is happy that softball practice has begun, but she is already waiting for games to be played.
"Practice has been good so far, but I'm ready to get it started and playing games," Craig said. "I'm excited for the season to get underway."
Karlin is also excited for his senior campaign to begin, especially considering he is doubling in baseball and track this spring.
"I'm out there with friends and having a good time," Karlin said. "I'm getting ready for the games and meets. That's when the real fun begins."
There will be previews for each of the BHS spring sports coming up in the next two issues of the Signal. There will also be schedules along with the previews.