Bond issue gets board attention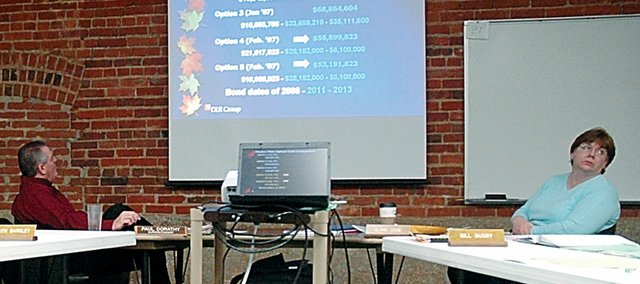 Legally, the Baldwin School Board will need to officially make a decision on a possible November bond issue vote by early August.
However, it doesn't appear the school board wants to wait that long.
"I think we need to have a decision way before August," said Blaine Cone, school board vice president, who filled in as president for Alison Bauer on Monday. "I was thinking more along the lines of June."
Board Member Scott Lauridsen then said the board should aim for May, because school will be out of session in June and summer will have already started. Supt. Paul Dorathy agreed with Lauridsen.
"From what they said last night, they would like to shoot for making a final decision on what might be in a bond issue, not be in a bond issue or if there is a bond issue by the May board meeting," Dorathy said Tuesday. "They are not absolutely tied to that, but I think they wanted to set a goal and say we need to shoot for this date to make a decision."
At Monday's meeting, the majority of the board members were informed of the district's facilities' committee recommendation. Two board members were not present at the meeting to hear the $22.5 million plan.
Both DLR Group architects, John Fuller and Kevin Greischer, were at the meeting to explain the recommendation and what steps to take before November. Both architects agreed waiting until the summer for a decision might be a bad idea because they should inform the district's staff members before summer starts.
"The staff definitely needs to be provided information before it leaves for the summer," Dorathy said. "They need to know what's going on. Also, the public needs to know what's being considered. I think the board will allow for the staff and the public to give their input before the board makes a decision."
Dorathy also suggested the board host several meetings for the public before a decision is made in May. The architects gave suggestions for what types of meetings to host, but no decision on dates or types of meetings was made Monday.
"I'm not sure what the format of those will be yet," Dorathy said of the future public meetings. "There was some discussion last night. There will be some sort of opportunity to provide input to the board regarding a possible bond issue before the board makes a decision on it."
Fuller and Greischer, along with several committee members, helped present the recommendation to the board Monday. It was discussed at length and several topics came up during the meeting. Those included what would be on the bond issue, a long-range plan, educating the public, construction dates and future meetings.
The recommendation included a new 480-student Baldwin Elementary School Primary Center and early childhood center. That building would include the approximately 260 BESPC students, the 4-year-old program students, Parents as Teachers organization and possibly Rainbow Experience Preschool.
Also included on the committee's recommendation was a new performing arts center. It would be around 10,000 square feet and would hold between 550-600 people. It would cost $3.66 Million.
Other items were the baseball and softball fields, practice track facility and technology and security needs. The last items were renovations to Baldwin Junior High School. Those renovations include a new roof, heating and cooling system and corridor renovations.
"I think it's safe to say that you have a good list of needs, not wants," Fuller said. "The committee compiled a list of needs here, not wants. Some compromises were made by the group to reach that goal."
Future plans in the recommendation include a new BJHS and renovations to Baldwin High School to combine the current BHS and BJHS into a high school complex.
Amy Cleavinger, Baldwin City Council president and facilities' committee member, said the group was always trying to look long term with its recommendation.
"I think no one can accuse us of rushing through this," Cleavinger said. "It was frustrating because we didn't ever have the same group twice. That was an OK thing because we had so many groups represented. Vision and planning kept coming up at the meetings. We questioned things that have happened in our district before and I don't want people to question what we have done in 10 years. It was a long process, but it was very effective and educational."
After the committee's recommendation was presented, board members asked the architects questions. Lauridsen proposed a question about when a new BESPC might be open for use if a bond was to pass in November.
Greischer said it would take a minimum of nine months to design the plans and send them out for bids. Then the construction would last 15 to 16 months and it would be finished in fall of 2010. However, Greischer said that would be done during the middle of the 2010-2011 school year, so he would advise waiting until the beginning of the 2011-2012 school year to open it.
"It could be two to three years before that is completed," Dorathy said. "We're hoping more for the two years, but you can run into things that are unforeseen. I think the goal would be to have something up and going in two years time."
The final piece of discussion Monday revolved around hiring a general contractor versus construction management. Lauridsen wanted a presentation on the advantages and disadvantages of both. Dorathy said that could be done.
The school board will meet at 7 p.m. March 24 for a special meeting regarding facilities and a bond issue.