True Baldwin City baby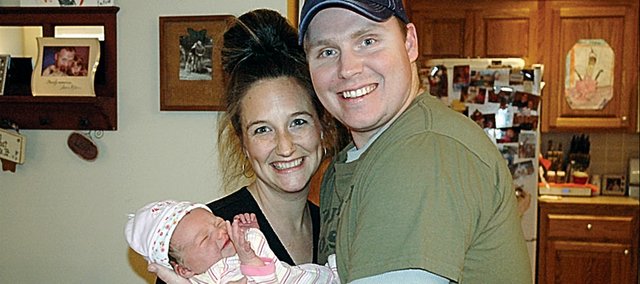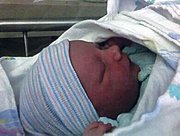 Years from now when Piper Pringle says she was born in Baldwin City, she'll be able to say it literally.
Piper was born at around 7:30 p.m. last Thursday night in the bathroom of the family's home in FireTree Estates. Her mom, Julie, went into labor earlier and her dad, Mark, called 911.
Three minutes later, Piper was already born. The Pringles are both registered nurses. Mark took directions from the 911 dispatcher on how to deliver the baby.
"Yeah, she was fast," Julie Pringle said about her daughter's early arrival.
Everything happened so fast that Pringle wasn't sure about what all took place. She knew it was a wild experience, though, and all went well.
"That's right, I'm sure," she said.
It was different for Mark.
"It was the greatest experience of my life and at the same time the scariest experience of my life," he said. "It was frightening to deliver your own child. I tried to stay calm for Julie. I was on the phone with EMS at the same time."
Despite his experiences as an RN, this was different.
"You have the training in school, but it's different in a traumatic situation," said Mark. "When her head popped out and her umbilical cord was around her neck, I reached with my two fingers and got it around her head."
Julie also knows it caused quite a stir in FireTree and that Piper will be known for it.
"She's a superstar and she doesn't even know it," said Pringle.
It wasn't a perfect delivery. Bathroom deliveries rarely are. But thanks to the quick response by Baldwin City police and Douglas County EMS and their action to help the baby breathe, all is well.
"She had the (umbilical) cord around her neck," said Julie. "But, she's fine. She's a big girl. Bigger than the paramedics said."
Piper weighs 8 pounds, 6 ounces and is 18.5 inches long. Her brother Vance was 8 pounds, 3 ounces and older sister Peyton was 7 pounds, 11 ounces. The other two births were "normal" for Julie. Piper was early in more ways than one.
"Her due date was Sunday," she said. "But, I've had the stomach flu and my doctor said that probably kicked it in.
"I think probably all the neighbors were freaked out," she said. "Two ambulances and a police car at your house in Baldwin City doesn't look right."
One of those ambulances was used to take mom and baby to Overland Park Regional Hospital. By Saturday, mother and daughter had been released and are back home.
The Pringles are thankful for the help they received from the paramedics, the police officer, family and friends throughout the whole event and afterwards.
Police Chief Mike McKenna said the department is happy with how everything turned out and knows the officer, who didn't want to be identified, won't forget that shift.
"Everything worked out for them and the officer," said McKenna. "We're happy for the baby and the family. When the officer called me to tell me about it, I asked if it was a boy or a girl. The officer said, 'I don't know. I was too busy to look.'"
"That's the thing about this job. It's something new every day," he said. "You never know what you're going to do on your tour. This is one the officer will always remember."