Buzzer beater forces
BHS

early exit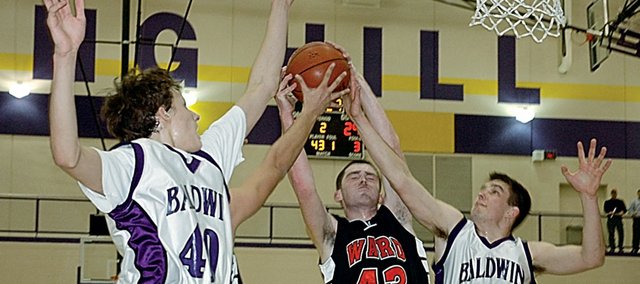 Spring Hill — Drew Berg was three seconds away from being the hero again.
Instead, Bishop Ward senior James Cox stole the show here Friday night in the semifinal round of the Class 4A sub-state.
Cox hit a three-pointer over two defenders as time expired to give the Cyclones a 47-45 victory over the Baldwin High School boys' basketball team.
"It was a tough way to end a good game," BHS coach Eric Toot said. "They had the opportunity with just a few seconds to go to make a play and they did just after we executed a great play to take the lead. They had a few seconds left and they executed a play and a kid hit a big shot."
Bishop Ward advanced to the sub-state final Saturday and Cox hit a game-tying shot to send the contest into overtime. Bishop Ward went on to win the game 64-54 over Saint James Academy. Friday's loss ended Baldwin's season with a 17-5 record.
"It has been pretty hard dealing with the loss over the weekend, especially when I heard that Bishop Ward won the next game," senior Dustin Schiller said. "That should have been us. It was really tough going out like that, especially for us seniors."
The Bulldogs trailed by four points with less than one minute in the game. Berg, a senior, made a jumper with 41 seconds remaining to close the lead to two points. Schiller proceeded to steal the Cyclone's inbounds pass, but missed the reverse layup. Freshman Justin Vander Tuig and Berg each had attempts at offensive put backs, but both missed. However, Vander Tuig was fouled and made one of his two free throws.
"We got down four with less than a minute left," Toot said. "We had three great possessions where we were able to execute and get some great shots. We took the lead, but I guess we just left a couple seconds too long on the clock."
On the Bulldogs' final possession, Berg sank a 15-foot jumper with 3.1 seconds remaining. That gave BHS a 45-44 lead.
"I have to admit, I did think we were going to win after he hit that shot," Schiller said. "In hindsight, three seconds is a long time and I should been focused on making a defensive stop."
Toot said he was also a little confident the Bulldogs were going to win with just a few seconds remaining. However, he knew the Cyclones had time for one last shot.
"At that point, you have to feel good about your chances," Toot said. "We knew it was going to take a great play and tough shot to beat us. They were able to execute it. You could look back on that play 100 times. It's frustrating, but that's just one play in an entire basketball game. That's the one that obviously sticks out to everybody."
After a timeout, the Cyclones threw the ball from the BHS baseline to their own three-point line. Cox caught the ball, spun away from one BHS defender, jumped and released the shot over two more Bulldogs. The ball bounced off the rim, only to come straight back down through the net. Time expired while the ball was in the air, ending the game and the Bulldogs' season.
"It's really a hard pill to swallow," Toot said. "Obviously, we had a chance in that sub-state, even though it was a tough sub-state. We were one of the better teams. We had a chance to win that game and we didn't and Ward went on to win the next one. They are going to state and you have to give them credit. They played us tough and gave themselves a chance to win."
Berg was again the leading scorer for the Bulldogs. He scored 14 points in his finale. Vander Tuig added 13, while junior Brandon Tommer scored 10.
Although three Bulldogs scored in double figures Friday, Toot wasn't happy with the offensive production.
"Offensively, we got away from things that we do best," Toot said. "When we did execute in our high-low, Justin did a great job of sealing and we got him the ball over the top. We just didn't do it enough. Give Ward credit. They played tough defense and they were very aggressive."
Baldwin scored most of its point during the first half of the quarters. During the first four minutes of each quarter, the Bulldogs combined to score 38 points. Before the fourth quarter, the only field goal late in a quarter came in the first quarter.
Despite the lack of scoring at times, that wasn't Toot's biggest problem with Friday night's contest.
"I can pretty much sum it up in one word - rebounding," Toot said. "We struggled on the boards all night. I just need to reevaluate as a coach on what we're doing rebounding wise. I guess technique wise I need to change some things, because I've been taught as a player and a coach that rebounding always comes down to effort.
"We just got beat bad on the boards Friday and I'm not sure if it was a lack of effort," he said. "So, we will go back and reevaluate what we are doing as a program and try to improve that phase. In reality, with the kids we have, we shouldn't be getting outrebounded by anybody. But on Friday, we definitely did."
Friday was the final game for the four BHS seniors. They are Zach Durr, Jesse Green, Berg and Schiller. During the past two years, under Toot's regime, they won a pair of Baldwin Invitational Tournament titles and a total of 34 games.
"Those four seniors gave us two great years," Toot said. "They have helped establish a program that I think we can all be proud of. We won two BITs with these kids leading the way and 34 games in two years. We have accomplished some things that haven't been done for a while around here. Hopefully, we can build on that momentum, but I wish it had ended better for them. I really appreciate everything they have given us over the last two years."