Baldwin City fares well in political contributions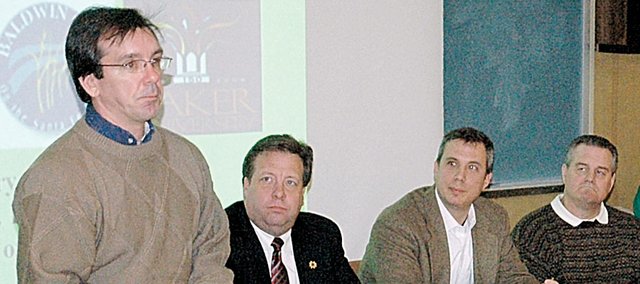 Editor's note: See "Political contributions..." for information on county donations
As far as political contributions go, Baldwin City residents give more than other smaller communities and larger ones, too, to candidates.
The Federal Election Commission recently released statistics showing how much money is contributed to politicians from around the state. Douglas County residents are among the leaders in the state and Baldwin City residents are among the most willing to give.
In 2000, Baldwin City residents contributed $5,050, which figured out to be $1.48 per person. Emporia contributed a similar amount at $5,087, but is eight times bigger than Baldwin. And, even many high-income Johnson County cities couldn't hold a candle to the local figures. Olathe averaged 31 cents per person, Shawnee was at 36 cents and Lenexa was at 23 cents.
"This is a rather surprising statistic," said Tony Brown, a Baldwin City councilman and professor at Baker University who recently announced he's running for the 10th District House seat. "It certainly goes against the image we have of ourselves here in Baldwin City.
"I think this high amount of political contributions may be due to a couple of factors," said Brown. "One is that we are a very active community. Visitors from other communities are always impressed with how many festivals and other events we host. Contributions to political campaigns may be just another manifestation of this community energy."
Other possibilities for the numbers include education : and money.
"The second factor is that, compared to other communities in our area, Baldwin City residents are relatively well-educated and affluent," he said. "So, we have the motivation to be part of the political process and the financial means to do so."
Another interesting tidbit from the statistics - most of Baldwin City's political contributions went to Democrats.