Wrestling camps keep
BHS

coach busy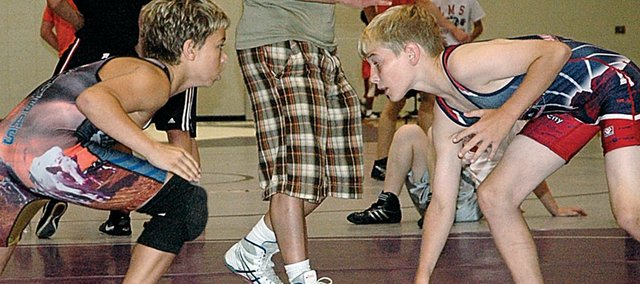 Kit Harris has barely left the Collins Center during the past 10 days.
Nearly two weeks worth of wrestling camps have kept him busy since June 17. The Baldwin High School wrestling coach's Team Champion Wrestling Camps have taken over Baker University since last week and will finish Saturday.
Each camp has attracted several Baldwin City grapplers. Tucker Clark, a Baldwin Junior High School seventh grader, enjoyed his stay last week during the camp.
"It was a lot of fun," Clark said. "It was fun getting to wrestle around and hang out with friends."
Another BJHS wrestler that has attended the Team Champions camp for several years is eighth grader Bryce Shoemaker. He also enjoyed his week, because he thought highly of the coaches and clinicians.
"It was fun this year," Shoemaker said. "There were a lot of great coaches there. I thought it was a lot of fun. They were pretty cool."
One reason many of the Baldwin City youth keep returning to the Team Champions, other than the location, is the team duals. During the final two days of the camps, the wrestlers are divided into teams.
The teams then begin to compete in dual format matches against wrestlers of similar age and weight. Records are kept and champions are named at the end of the camp. The spirit of friendly competition makes the duals enjoyable for the wrestlers.
"The duals are a lot of fun each year at camp," said Shoemaker, who won his division. "I just really enjoy wrestling live and not just practicing. I'm also pretty competitive, so they are a lot of fun."
Clark also thought highly of the duals last week. He especially enjoyed being a part of a team.
"It was fun to be part of our dual team and compete against other kids," he said. "I like seeing how we do as a team in the duals."
Another fun part of the camp, that may exclude some of the Baldwin City wrestlers, is staying in the Baker University dorms and making new friends.
"I think that's a big part of the camp experience," Harris said. "It's fun for them to stay somewhere for a week with their buddies. They enjoy that."
While the campers enjoy wrestling competitions, they also attended the Team Champions camp to learn from acclaimed clinicians. Those include successful collegiate wrestlers, area high school coaches and Harris himself.
He said each clinician teaches a different aspect of the sport, which helps them cover nearly everything during the five-day camp.
"Each coach has their own little specialty," Harris said. "Some of those included the twister series, takedown offense and defense, philosophy, positioning, leg attacks, finishes, top work and bottom work. We try to hit all of the areas in wrestling, along with trying to give them good technique instruction and drills.
"Also we talk a lot about sportsmanship and representing the sport of wrestling in a good, positive manner," he said. "We want them to represent their schools and communities in a very positive way."
Shoemaker said he usually takes quite a bit out of the camp each summer, despite being a successful wrestler at his age.
"I learned two really good moves this year that I'll hopefully get to use," he said. "Sometimes I learn up to five moves, but it just depends on which coaches are here."
For the past several years, Harris has held his annual camp for one week only. This year he decided to split the camp into two separate weeks, which has boosted enrollment and made each camp more manageable.
The first camp this year had 119 wrestlers attend, while the second one has around 67. Harris has been pleased with the attendance each week.
"The camps have been great," Harris said. "I'm glad we did it in two weeks. It brought the numbers down each week, which makes it easier to have our sessions. It has given the wrestlers more options and it's helped to get more clinicians in to teach."
Before the camps began, Harris wasn't sure many locals were going to attend. However, he was pleasantly surprised once they started.
"We ended up with quite a few," Harris said. "The local group was here for the most part. The high school group was really hard to get here, but I eventually got a few of them in here. Most of our locals were younger, junior high age wrestlers.
"I worked really hard to put on three weeks of camp for a very affordable price for Baldwin kids this summer," he said. "With gas prices and the price of camps these days, it's nice to have local camps. That's a huge benefit to them. That's why I do this."
Early in the summer, Olympian Ken Chertow held a camp at Baker University. He donated several hundred dollars toward Baker's wrestling program that begins in 2009. Harris has also been giving money toward that cause with his summer camps.
"All three camps put money into the Baker wrestling start up fund," he said. "They each have for the last several years. It's been a great help to getting that program started."