Woodcarvers flock to Baker campus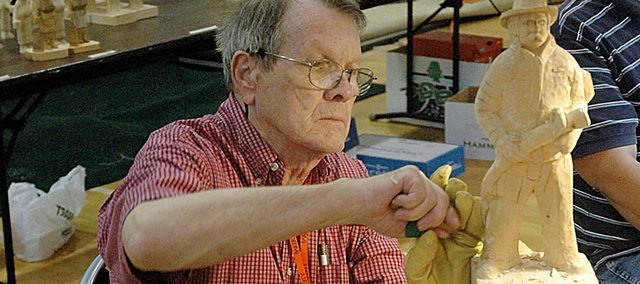 Woodcarvers from across the nation flocked to Baldwin City last week as the Kaw Valley Woodcarver's Association hosted its annual seminar at Baker University.
Those at the four-day event attended workshops meant to improve their woodcarving technique.
Joyce Volmut, a carver from Topeka who took up the hobby six years ago, said the seminar provided an opportunity to socialize with other carvers while at the same time improving her craft.
"It's a nice group of people that comes back year after year," Volmut said. "You get to visit with them and get to know them."
This is Volmut's third time attending the event and she plans on returning next year. She said she hoped the seminar would help her refine her carvings so she could eventually sell some of her work.
"I'm just now getting to a point where I want to sell, but I haven't done that just yet," Volmut said. "I've been giving them to friends as gifts and people seem to like it."
Carlan Honaker, the founder of the Kaw Valley Woodcarvers Association and chairman of the seminar, said this year had seen a turnout of 51 students, about 10 more than in previous years. Honaker said most of this year's participants came from Topeka, Wichita, Kansas City and the surrounding areas, although others came from as far away as Texas. No Baldwin City residents came to the seminar this year. The skill levels of the students varied, but all had had at least some experience with carving.
This is the seminar's 10th year in Baldwin City and Honaker has served as its chairman for the past three years.
Honaker started carving during his time as a Boy Scout leader in the 1960s. By 1975, carving had become a serious hobby for him, and he began selling his work and teaching woodcarving classes. Today Honaker makes a living by selling his pieces and giving lessons in Topeka and at seminars across the country.
Honaker said the seminar provided a way for people to learn a lot about woodcarving in a relatively short period of time, although becoming a master woodcarver required a much lengthier commitment.
"I've been doing it for 45 years so I don't have any problems, but it takes some years to get good at it," Honaker said. "Some never learn and others learn really quickly."
Honaker completed his largest commission just last year: a large-scale nativity scene for Our Lady of Guadalupe Church in St Joseph, Mo. Honaker cites carving a seal for the Kansas Supreme Court courtroom as another of his career highlights.
Honaker's woodcarving has even taken him abroad to Europe, where he spent time studying under some of Europe's preeminent carvers and attending classes at a woodcarving school in Austria.
Europeans take woodcarving more seriously than Americans. In Europe, there are 4-year schools that teach woodcarving, while in the U.S. woodcarving classes last a matter of weeks, Honaker said.
"Here it's a hobby," Honaker said. "In Europe it's a profession. It's a job."
At the seminar Honaker taught classes in creating what are called "in-the round" woodcarvings, three-dimensional works carved from a rectangular block of wood. In addition to Honaker, seven other instructors attended the event, holding workshops for carving a wide variety of objects, from caricatures to figurines to landscapes.
"Each year each instructor has something here that's different from the year before," Honaker said. "That's how we keep people interested."
Wanda Potter, a Dennison resident, was one of the instructors, teaching students to carve clocks shaped like tea pots.
This was Potter's fourth time teaching a workshop at the seminar. She began carving almost 20 years ago, and though she specializes in wildlife carvings, Potter said she could carve "just about anything."
"Carving gives me a feeling of accomplishment and creativity," Potter said. "It's not something people normally do, and to me that's kind of special."
This year's seminar was held in Baker University's Memorial Hall. Participants had the option of either commuting to the seminar or staying at Irwin Dormitory. Those commuting paid $100, while those staying at the dormitory paid $200.
The seminar began at 1 p.m. on Friday and lasted all day Friday and Saturday It will end at 11 a.m. Sunday.