Brown teaches youth as role model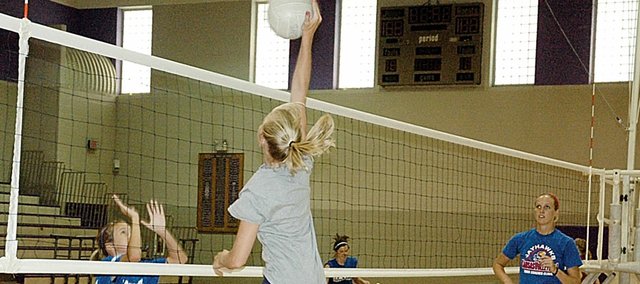 If Emily Brown's legacy at Baldwin High School was ever in jeopardy, she helped cement her mark last week.
For the second straight summer, the 2004 BHS graduate hosted a weeklong volleyball camp at her alma mater. She not only saw an increase in attendance numbers this year, she also saw several returnees who came back because of her.
One of those returning campers was BHS sophomore Lyndsey Lober. She couldn't pass up another opportunity to look up to one of her idols.
"It was a lot of fun having Emily around," Lober said. "She is a great role model for a lot of us. I looked up to her growing up. I wanted to go to all of her games and hang out with her. It's especially great that she is an older person and still spends a lot of time with us high school players."
Brown and Natalie Uhart, University of Kansas senior, hosted the camp together again. Brown completed her four years of eligibility at Kansas in the fall. They were teammates on the Jayhawks' team and now they host summer camps in the area.
Another returning camper that enjoyed both clinicians last summer was Kelsey Carbajo, a junior at Spring Hill High School. She remembers watching both players several years ago, which was one reason she attended a year ago.
"I really liked it this year," Carbajo said. "This was my second year so I brought a few freshmen with me. It was a lot of fun. I really liked the camp last year and I wouldn't want to pass up the opportunity to play with two KU players. They are really nice and fun.
"My mom was a high school coach, so I've been watching them since I was really young and I've wanted to be like them," she said. "Then when they put on a camp, I had to be here, because I've wanted to be like them."
For years, Lober watched Brown dominate as a Bulldog and a Jayhawk. Last week she enjoyed learning from her and spending time with a local sports all-star.
"She brings a coaching aspect, but also a sister aspect to the game," Lober said. "She understands what happens in high school and how to talk to us. She is more personable than our high school coach, but that's just the difference in her coaching, because of her age difference."
Brown even admitted her goofy personality helped make the camp more enjoyable for the high school players. In fact, having fun was one of the main messages she wanted the campers to take away from her teachings.
"The main goal of camp is to teach that volleyball is fun," Brown said. "I told them all week that I am an idiot and I mess around. The main message was to have fun in whatever you do, whether its volleyball, basketball, track or whatever you do."
While Brown is the one being silly and goofing off, Uhart was the primary teacher for the campers. Brown also admitted that after the camp finished Friday.
"Natalie is definitely the brains of the operation," Brown said. "She played at Long Beach for two years and got everything right there, technical wise. She knows everything and she's great to have."
Lober even agreed with Brown.
"She is definitely a goofball, but it makes it all the more fun," Lober said. "Natalie is a great coach, too. She is really down-to-Earth and just wants to help us get better."
After the five-day camp ended Friday, Brown and Uhart admitted they were tired, although they enjoyed every moment they spent at the camp. Most of the attendees were BHS players, but there were other schools represented. Those schools were Free State, Anderson County and Spring Hill.
"Camp went so well this year. It was so much fun," Brown said. "Last year we came and I think we had about 20 kids. It was a lot of fun. Then this year, we had about 27, which was nice. It was just a good group.
"We had a good core group of Baldwin kids, which is nice," she said. "We also had eight from out of town come in, which is cool to see that they just want to be a part of volleyball. I guess, ultimately, that's our goal, so that was good. It's good for the Baldwin kids to see a little different aspect and some experienced players."
Amidst all of the silliness and fun last week, Brown and Uhart did teach the campers a variety of skills. Each day they focused on one aspect of volleyball. The five core areas were passing, setting, defense, blocking and serving.
After learning and practicing the appropriate skills each day, the campers broke into teams and scrimmaged. That is how they wanted the players to work more on the newly learned skills
"It was an all-skills camp and we covered basically everything," Brown said. "Natalie and I just wanted to tell them everything that we know. I told them I'm not very good at explaining things, but here is what I know.
"Playing the sport is the best part and it's when you get the most time to practice your skills," she said. "You can do drills all day, but you will get better by just playing. That was really important for us to focus on. We played at the end of every day and most of the last day."
Carbajo, who is a setter for the Broncos, tried to develop other areas of her game last week. She also enjoyed success on the final day of camp as part of the winning scrimmaging team.
"I learned a lot this week," Carbajo said. "I'm a setter, so I learned how to block better, because I don't get much practice with it. I also learned how to hit and pass better. We also put all of our skills together and scrimmaged. It's a lot of fun, especially when you are on the winning team."
Lober also took home some valuable skills that she knew she needed to improve.
The campers' final minutes on Friday at BHS were spent taking a quiz about what they learned all week. Brown said that was her teacher side coming out as she is studying education in Lawrence. Now that her collegeiate playing days are finished, Brown hopes she can pass along her knowledge and love of the game to younger players.
"Volleyball has treated me well and I want everyone to have that same opportunity," Brown said. "Some of my best memories are from having fun with my friends playing volleyball and different teams. My goal is to try and communicate that to as many people as I can for at least their high school career."