Battling childhood cancer in Washington,
D.C.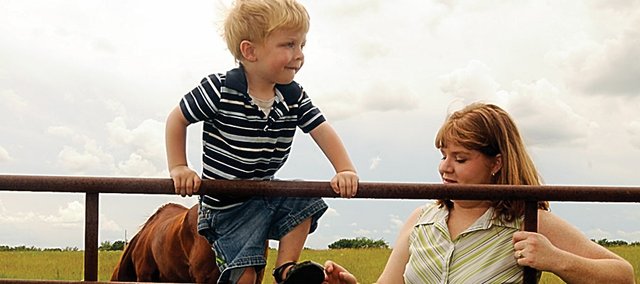 While her young son fights what appears to be a winning battle against cancer, Kara Cunningham is taking action in another direction: Washington, D.C.
Cunningham, of Baldwin City, left for the nation's capital last weekend where Tuesday she and at least 400 other families, physicians, caregivers and others wrapped up two days of lobbying Congress for support of a bill that would provide additional funding for childhood cancer research.
Cunningham's 2-year-old son, Lane, was diagnosed with neuroblastoma when he was 8 months old. Surgeries and chemotherapy treatment sent the cancer into remission.
"I have always known since he was diagnosed that I wanted to do something to help children with cancer," Cunningham said. "I want the research to go on."
Cunningham works with CureSearch, a network that combines the efforts of the National Childhood Cancer Foundation and the Children's Oncology Group, in lobbying and advocating for children suffering from cancer. The network includes more than 5,000 health care professionals seeking answers and sharing results in treating cancer.
This was not Cunningham's first trip to Washington. She has been there twice in the last year, talking with the Kansas congressional delegation. She was accompanied on one trip by representatives of CureSearch and on the second trip by another woman from Kansas City who lost a child to cancer.
"We got great reception; I think we were instrumental," said Cunningham, noting that some in the delegation are co-sponsors of the bill, called the Caroline Pryce Walker Conquer Childhood Cancer Act. It is named in honor of the daughter of Rep. Deborah Pryce, R-Ohio, who died from cancer. The bill would provide $150 million to childhood cancer research.
Earlier this month the House passed the bill on a unanimous vote.
'I was so thankful'
Cunningham and her family - her husband, Todd Cunningham, Lane and a 5-year-old daughter -were living near Pratt when Lane was diagnosed with cancer. They were preparing to move to the Ottawa area because Kara Cunningham had taken a job as assistant professor of communications studies at Ottawa University.
During Lane's final medical check, the family doctor noticed a tightness in his stomach, Cunningham said. Inside his upper body a tumor the size of a softball was found. Two days later it was removed by surgery.
More tumors developed, including an egg-size tumor on his leg. There were additional surgeries and chemotherapy at Wesley Medical Center in Wichita and Children's Mercy Hospital in Kansas City, Mo. Last fall his cancer was found to be in remission. Because he was diagnosed before he was 18 months old, Lane was given an 80 percent chance for survival. Kara Cunningham credits the family doctor.
"I was so thankful," Cunningham said. "If he wouldn't have been concerned, my son's cancer might not have been caught until later. Just a few months later and the survival rate drops to near 50 percent."
Lane has handled the disease as well as could be expected, Cunningham said.
"He's been a real trooper. He's been through a lot in his two years," she said.
He continues to be examined and undergo scans every three months.
Cunningham thinks that personally telling Lane's story to members of Congress has an effect.
"I think it's the emotion they need to hear. They see statistics all the time," she said.
CureSearch and people such as Cunningham are making a difference in the effort to continue child cancer funding, said Staci Haller, executive director of CureSearch National Childhood Cancer Foundation. The organization also raises an average of $10 million to $12 million in private funds.
"Our numbers are small but our message is right," she said. "Our mission is to create a world where children no longer die of this dreaded disease. We're closer than we were before. It's possible in our lifetime."