Two believed dead in small-plane crash south of Tonganoxie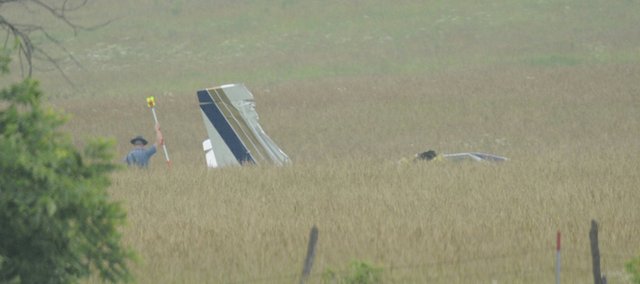 Photo Gallery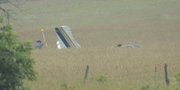 Plane crash
Federal aviation officials will work Wednesday in a southern Leavenworth County field, trying to determine the cause of a small-plane crash that killed two people Tuesday morning.
The plane that crashed was a 1971 twin-engine Aero Commander registered to Central Airlines, also known as Central Air Southwest, based at the Charles B. Wheeler Downtown Airport in Kansas City, Mo., said Lloyd Hetrick, fixed-base operator at Lawrence Municipal Airport. Leavenworth County sheriff's officials received word of the crash at 10:22 a.m. Tuesday and responded to the site about 5.5 miles south of Tonganoxie.
Investigators from the Federal Aviation Administration arrived about four hours after the crash, and National Transportation Safety Board investigators from Denver are expected to arrive Wednesday at the scene, which is just south of the Kansas Turnpike near the intersection of Cantrell Road and Leavenworth County Road 1.
Hetrick said he had been in contact with authorities who were investigating what had happened. Hetrick said that he had been informed that two people were on the plane, one of them an experienced instructor.
A Central Airlines pilot said the two men were participating in routine training exercises. Jim Weatherly said pilots go through periodic training every six months. They execute maneuvers, practicing in-flight engine stalls or flying with one engine.
Late Tuesday, the Kansas Highway Patrol identified the occupants as two Central Airlines employees. Killed in the crash were 24-year-old James Phillip Jambor of Fort Worth, Texas, and 47-year-old Murray Brown of Kansas City, Kan.
Brown, originally from the United Kingdom, was the airline's director of operations for more than 20 years, Weatherly said.
"We're going to miss him dearly. He was really well respected and probably trained 1,000 pilots since the '70s," he said.
Jambor was a pilot-in-training, employed by the airline for just two weeks, Weatherly said. It was his final flight before being declared a full-fledged pilot.
Surveyors working in the area were the ones who called 911 to report the crash on the property owned by Tailgate Ranch, said Leavenworth County Sheriff David Zoellner.
"The indication from them was that they heard a sputtering noise from the engine and they looked up and saw the plane - and then it headed straight down, nose down to the ground," Zoellner said. "It looks like a plane crunched up from the top to the bottom. And the propellers and engine (are) buried down into the ground."
According to an accident report released Tuesday night, the aircraft suffered engine failure.
Weatherly said Central Airlines' planes receive routine inspections every 125 hours.
"On a busy airplane, that's every three weeks at the most, two weeks sometimes," he said.
Hetrick said Central Airlines transports freight and often conducts training flights to Lawrence Municipal Airport.
"They come in here and shoot approaches all the time," Hetrick said. "They weren't out here this morning."
Central Airlines was preparing an official statement Tuesday evening.
According to the National Transportation Safety Board's database, 29 plane crashes have involved fatalities in Kansas since 2000, and in those, 47 people have died. One was near Overland Park, and two were in the Topeka area.
Reporters Lindsey Slater and George Diepenbrock contributed to this story.