Wonderful wizard ready to make its run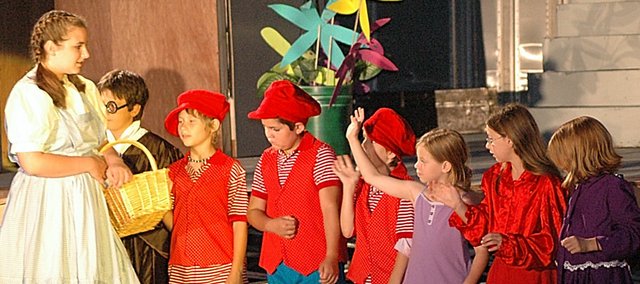 Flying monkeys and munchkins will soon be coming to downtown as the Baldwin City Community Theater puts on a performance of "The Wizard of Oz."
The productions are scheduled for tonight through Sunday, with two more showings on June 28 and 29. All shows are at 8 p.m. in the grass lot between the post office and the Lumberyard Arts Center. Tickets can be purchased at the show or at Baldwin City Market. Tickets are $12 for adults and $5 for children, while those 5 and under get in free.
"It's going to be good, really good," said director Annette Cook. "It's been very much a group effort."
Practices for the musical began about a month ago with full dress rehearsals on Monday, Tuesday and Wednesday leading up to the first performance tonight. Cook said she was sure the production would come together in time.
"If the weather would stop acting up it would make it easier, but we've got people from all over helping to bring this all together," Cook said. "We have some pretty cool special effects and the kids are so cute in their costumes."
The live production of the musical follows the script of the 1939 movie classic pretty closely, she said, although there were some special effects from the movie that couldn't be translated to the stage. In addition, she decided not to use a real dog for the part of Toto, Dorothy's Scottish terrier, because she thought it would cause "too much confusion."
Cook wanted to perform the musical because it would draw in participants from all segments of the population, especially the younger crowd.
"I wanted to involve the community," she said. "I thought it would get kids involved and turn them on to theater."
Children, the majority of whom are under 12 years old, fill 44 of the musical's roles, playing characters such as flying monkeys and munchkins. There are 55 parts in the musical and Baldwin residents fill all but four of them.
"It's very exciting," said Emma Cook, who plays Dorothy. "I watched the show as a little girl and always dreamed I would be Dorothy, so actually playing her is like a dream come true."
Emma recently moved from Baldwin City to Lawrence with her family and will be a sophomore next year at Lawrence High School.
Dorothy plays a part in all but one scene in the musical. Despite the large role, Emma said she wasn't nervous, although she said she might get more nervous right before the performance.
Emma said she was particularly excited about singing the production's show-stopping tune, "Over the Rainbow."
"I've sung the song a lot, but now, being Dorothy, it's so much cooler," Emma said.
John Radenberg, a student at Baker University who plays the Tin Man, said he was expecting the musical production to turn out well.
"There's always something that goes wrong but I think it'll turn out all right," Radenberg said.
In addition to Emma and Radenberg, other lead performers are Marion Consantinescu as the Wizard of Oz, Matt Keller as the Scarecrow, Susan Pouliot as the Wicked Witch, Chris Cook as the Cowardly Lion, and Alex Shaw as Glenda. Shaw, an Ottawa resident, is the only lead cast member not from Baldwin City.