Preparing for Friday nights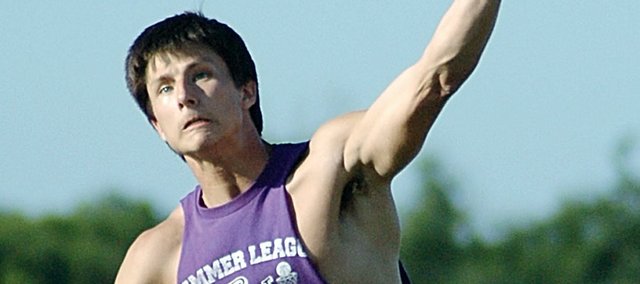 A run deep into the state playoffs might not have satisfied the Baldwin High School football team.
It might have just fueled the fire for success.
BHS coach Mike Berg credited off-season workouts for leading the Bulldogs through last season's run that carried them into the Class 4A semifinal round. The players have seemed to have caught on and believed in the system as they are working diligently this summer in preparation for fall.
"A lot of people thought we lost a lot this year, but we bring a lot of kids back," senior Sam Beecher said. "A lot of guys that didn't play last year are coming back and playing this year, which is really good. We are having a really good turnout for weights and 7-on-7. We also had a good turnout for camp, so everyone is devoting themselves to football this summer."
During the weekend, a group of the Bulldogs traveled to the campus of Northwest Missouri State University for a team football camp. They suited up in full pads for drills and practices that resembled real workouts they will do in the fall as a team.
Although it was the first time the team worked out together since last fall, Beecher was pleased with the progress made over the weekend.
"For the first 30 minutes, we had on shorts, shoulder pads and a helmet," said Beecher. "For the rest of the time, which was about 10 to 12 hours of football a day, we had on full pads and we were practicing with the team. We got a lot better.
"We looked really good, I thought," he said. "Toward the end of Saturday, when we did a lot of game speed stuff, we looked really good. Our line started to block really well, which is good since we lost a lot of them from last year. I think we will be good."
The Bulldogs enjoyed themselves at the camp in Maryville, Mo. However, a lack of conditioning wore on them as the weekend progressed.
"It was fun," senior Andy Thurlow said. "It was really exhausting, actually. It was tough, because we had to hit a lot. I had a lot of fun and I learned a lot."
Beecher agreed with Thurlow about camp being exhausting.
"The camp went really well and a lot of us got really tired," he said. "Other than that, it went well. From Friday to Sunday morning, we improved a lot as a team."
Last year, the Bulldogs were a running team that could attack defenses inside and outside. Passes were few and far between, but one of the leading receivers was Brandon Tommer, who will be entering his senior season this fall. At the camp, he said he tried to add a passing game to the Bulldogs offense.
"I tried to have fun at the camp," Tommer said. "I tried to help us win a couple games and bring a different dimension to the team since we ran a lot last year."
After the exhausting team camp was over, the Bulldogs returned home for more football Monday. They started the annual 7-on-7 passing league Monday evening at De Soto.
It's the annual summer league that several area teams participate in each year. Each team has seven players on each side with no linemen. Each game is 25 minutes long and teams attempt to drive the ball 40 yards for a touchdown. They are only allowed to pass the ball, but they must pass it within four seconds or the play counts as a sack.
First downs are rare, even more so than touchdowns. It's a high-speed game that resembles video game football, but allows teams to work on fundamentals and the quarterback-wide receiver connection.
"This helps build team chemistry in the passing game," Tommer said. "It helps a quarterback know where a player likes the ball, how he catches it and how he runs his routes. It's very helpful."
BHS alumnus and assistant coach Aaron Anderson was the coach Monday. He will be assisting with the summer league this year. After the Bulldogs' two games, he was pleased with the effort and results.
"They are coming off the weekend up at Northwest Missouri State where they got a lot of work done," Anderson said. "They looked pretty crisp and they got a little tired, because we are a little short-handed compared to the other teams. We looked good and it was nice to get some fundamental work in."
In the first game, Baldwin led De Soto 14-7 as the game winded down. However, the Wildcats scored a touchdown on the game's final play to tie the score 14-14.
Baldwin rebounded in the next contest with a blowout over Kansas City-Turner. BHS won 28-7 after leading 21-0 for much of the game.
"We tied the first game, but we got them really good in the second game. It was really nice end it like that with a 'pick six.'"
Thurlow ended the second game with an interception return for a touchdown. He also scored another touchdown during the game on offense.
"It was fun to score a touchdown or two," Thurlow said. "It was pretty exciting to score on the interception return."
The Bulldogs enjoyed the first night of the annual passing league, especially after the weekend where they played together for a couple of days.
"It was really fun tonight," Beecher said. "We played a little bit of football this weekend, so we warmed up for 7-on-7 with a little extra practice. It was really good, because we haven't lost anything from the season. We weren't rusty at all and it was good to come out like that."
Although it was the first night of action and it's still early in the summer, Anderson said the Bulldogs played fairly well Monday.
"It was off and on, but it's June," Anderson said of their performance. "You sort of have to take it with a grain of salt, but I think they have a lot to build on. They got a confidence boost in the second game. Now they have to keep working the rest of the summer and build on that for the fall."
Besides playing every Monday evening, many of the Bulldog players are lifting weights at BHS and running at Bulldog Days during the week. They are ready for the fall to arrive so they can take their place under the Friday-night lights.
"At the start of the summer, we have 7-on-7 and the team camp," Beecher said. "Toward the end of the summer, we have another camp, so we are playing football for most of the summer. It gets us really excited for the fall."