Gas prices attract local fans to Thomas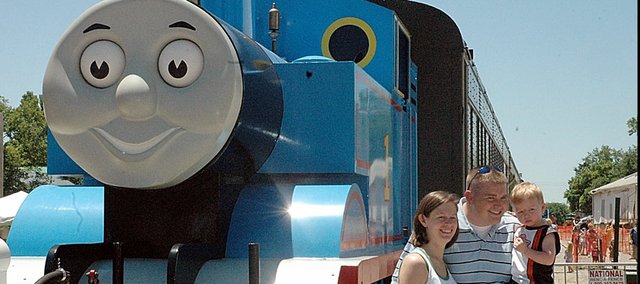 Photo Gallery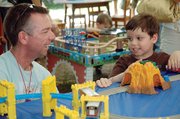 Thomas the Train June 13-15
A Day Out With Thomas: 2008 completed the final weekend of its two-weekend stay in Baldwin City on Sunday.
As gasoline prices hover around $4 per gallon, families are searching for local hot spots to take their children to for summer vacations.
For several area families, that hot spot came in the shape of a blue, cartoon train. Their answer was the annual Thomas the Tank Engine event in Baldwin City.
"With everybody concerned about taking long trips, because of the gas prices, we can take a short, little outing and come down from Lawrence for the day," said Lew Hanna, Lawrence resident, who attended the event with his two sons. "Baldwin is a cool, little town."
A Day Out With Thomas: 2008 once again took over Midland Railway for two consecutive weekends and left as quickly as it rolled into town. It provided families a chance to take a local vacation that their children would enjoy.
One of those local families was the Youngs, who live west of Baldwin, near Overbrook. Ron and Marty brought their trio of children to the event for another year, but this wasn't the only trip they have planned for this summer.
"It's 20 minutes from our house. I've found a lot of activities to do this summer that are close," Marty Young said. "In fact, we're combining a doctor visit that we take every year to the allergy doctor in Oklahoma with a vacation. That's what we are doing to try and save on the gas-price issue. We are trying to find things close by."
The Youngs' three children, Calvin, 7, Bonnie Jean, 6, and Wylie, 2, visited Thomas on Friday afternoon. For the two oldest children, it wasn't the first time to see the train. They had been to see him for a couple of years, but now the youngest one is the Thomas fan.
"He (Calvin) is the original Thomas fan and his sister just tagged along with whatever he did, but Wylie just loves Thomas," Marty Young said. "Wylie is 2 and a half and he loves trains," she said. "We love Thomas. That's what brings us back every year. It's fun for all three of the kids. I think it keeps them young at heart."
Since gasoline prices have become an issue for most Americans, the local vacations give families like the Youngs a chance to have fun and save money. The only costs of the event were the train ride, food and merchandise, but the other numerous activities were free for the children.
"We just enjoy it every year, because I can bring the kids and I don't have to worry about them," Marty Young said. "I can look and see where they are. They have a great time. There are so many things that you can do that you don't have to pay for. You can choose to spend how much you want to spend."
The Youngs aren't the only ones coming back each summer. The Hannas have traveled from Lawrence three straight years to see Thomas. Lew brought his two sons, Aiden 4, and Evan, who is almost 3, to Baldwin City Saturday to visit their favorite train.
"They are over-the-top Thomas fans. It's an obsession with them. They love Thomas. They talk about him all of the time and they watch all of the movies. They have a lot of his stuff. Thomas is their best friend and they enjoy it. This is their Mecca."
Although most Thomas the Tank Engine visitors live in northeast Kansas or western Missouri, there are several that come from even further away. One family in fact, drove from Estes Park, Colo., which is north of Denver about an hour.
Jen McCrea and her four children drove to Maryville, Mo., to visit her mother, Cathie Hannigan, before all traveled to Baldwin for Thomas. Her children are Allie, 3, Jack, 2, and the twins Mollie and Max, 1.
"We wanted to come see Thomas and we have family in the area," McCrea said. "Jack is a big-time fire truck and train fan. He wants to be a fireman one day. He loves fire trucks.
"They liked the train," she added. "Jack was a little bit scared of riding the train before the ride, but after the ride he said 'Thomas is nice.' They are enjoying the whole event."
On Sunday afternoon, Thomas rolled back out of Baldwin City, but not before thousands of families took advantage of a local vacation. Hanna said his children enjoyed the weekends and they were happy to spend a few dollars contributing toward Baldwin City.
"We've been down here both weekends for Thomas," Hanna said. "The kids enjoy it so much. We came the first weekend and we were here about six hours. We rode the train and they talked about it all week, so we told them we would come back today. We plan to come back every year as long as they want to come.
"We understand, too, that the proceeds from this whole thing go to help the train depot," he said. "That's neat to us, because it's not just a merchandising event. It's a good investment for the city and it's nice to give something back to the town. We always try to buy the food here and give back to the community. That's important to us."