Father's Day festivities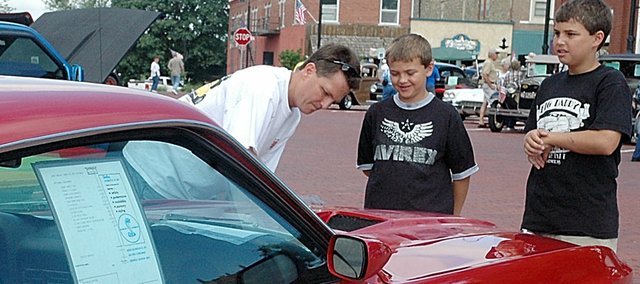 Photo Gallery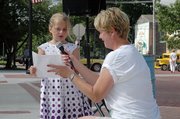 Planes, Trains and Automobiles 2008
Baldwin City's annual Father's Day weekend event attracted a large crowd again for its vintage motorcylce and automobile shows, along with its variety of other events.
Rusty Bruns and his sons helped Baldwin City ring in the Father's Day weekend.
On Saturday, they entered in the classic car show at the Planes, Trains and Automobiles event. The car show was held downtown in conjunction with the annual event.
Bruns and his three sons made sure their red 1969 Ford Shelby Cobra GT 350 Fastback Mustang was shining brightly Saturday. The annual Father's Day weekend event in Baldwin City has become a tradition for them.
"I like the atmosphere of the event and it's here in my hometown," said Bruns, who has lived here with his family for three years. "It's something fun to do. The boys enjoy the hot rods and I enjoy the hot rods, too. I've always been into cars and it's just something fun to go do."
His three sons are Cody, 13, Cameron, 8, and Caden, 7. All three helped him prepare the car for the show and also helped make the weekend more enjoyable for him, although he really likes the Planes, Trains and Automobiles event.
"It's a fun Father's Day event," Bruns said. "It has a great draw and people come down from other cities to do it or check it out. We have friends asking us if we are going to be down here again."
He inherited the car from his brother after he died a few years ago. Bruns said his brother saw the car in a museum and purchased it. Since taking ownership of the classic Mustang, Bruns has entered the automobile in car shows in Lawrence and Gardner, but hopes to enter it in a large show in Belton, Mo.
He isn't the only one in the family that enjoys the classic cars. His oldest son has taken a liking to the vintage automobiles.
"They love the old cars," Bruns said. "I try to get the oldest one to guess the years and makes of the cars. We work on him every year."
The numbers of automobiles in the show were down slightly this year from previous years. However, the number of vintage motorcycles was about the same from a year ago, according to Stan Vickers, co-organizer of the event. He said the number of ride-ins was down this year.
"I'm sure the gasoline prices have a little bit to do with that," Vickers said. "I'm pleased with the numbers we had, though. It was a great event and another successful year.
"We would like to get more local merchants involved next year," he said. "The more merchants we get participating, the more people will benefit from this, instead of just a few of us. However, we know that everyone is always busy."
Of course, the entire event included more than the vintage motorcycle and car shows. There were the airplane flights at Vinland Airport for children ages 8 to 17. Dozens of free rides were given all morning Saturday at the airport north of Baldwin City.
This year saw a new event added to the schedule. It was the Best of Baldwin barbecue contest. After all was said and done, two cooks took home the prizes. John and Damien Baranski won the chicken and sausage categories, while Bruce Neuenswander took home the pork title.
"Both of them were kind of a fusion between Caribbean and Midwest barbecue," J. Baranaksi said of his entries. "It was a lot of fun. We had a good time. This was the first one I've ever entered. This sounded like a lot of fun and Damien was in town, so we decided to come hang out down here for the day. If they do it next year, I'll definitely be involved."
Attendance might have decreased from a year ago, but that didn't stop people like Bruns from enjoying the event and the town for another day.
"This is a great place," Bruns said. "We love the city and like the people. We've been welcomed really well. The boys are having fun in sports and it's been going great so far."