Camp helps Bulldogs at Baker league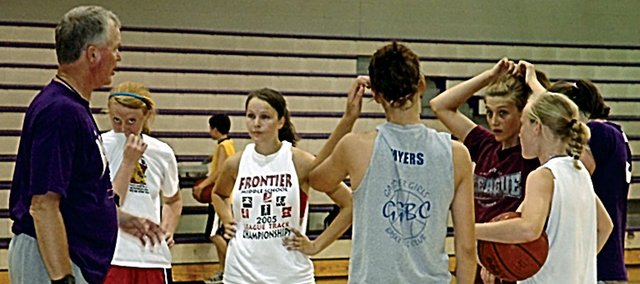 As far as summer camps go, Bob Martin's are pretty traditional, but that's how he likes it.
He tries to keep his simple and to the point, while incorporating some fun and entertainment into the mix. The Baldwin High School girls' basketball coach just wrapped up his annual summer camp last week, but not before he got his message and game plan across to his players.
"There were a lot of things we wanted to get done at camp," Martin said. "We wanted to get the ball in their hands and do a lot of fundamental stuff. Of course, we wanted them to play a little bit, also."
Some summer camps focus on fundamentals while others focus on having fun and just playing the sport. Martin wanted his squad to focus on playing as a team and the different offensive and defensive philosophies that will be used next winter.
"We did a little bit of team stuff this week, because we have a couple of team camps coming up that we needed to prepare for," Martin said. "That's one of the ways we try and approach the camp."
While most of the camp was centered on next year, there were some fun times also. At least senior Tracie Weege believed so.
"It was a good week of camp," Weege said. "We got to see a whole bunch of new girls come out and join us. We also got a chance to see what our team is going to be like next year.
"It's been a while since we've all been together on the court," she said. "It was hot in the gym, but we all had fun. We had competitions and we all had our laughs during the week."
Weege wasn't alone in her thoughts toward the camp. Junior Krista Seaman enjoyed the four days in the BHS gym.
"It was good being back with the team," Seaman said. "The girls all get along great and we haven't gotten to play together since the season, so summer camp is always a blast. It's weird without last year's seniors there, as it is every year, but we'll just have to deal with that."
Baldwin did lose four seniors from this year's squad that all started most of the games. Martin is aware that replacing them will be tough, but each summer he hopes that some of the girls who saw little to no varsity action will improve and become a solid contributor.
"It was a good week," Martin said. "It was a really good week. Like I told them, one thing that is fun about this week is with every new team you have, you get to watch different people step up. You get to see who is going to really be committed to being a good player. It's fun to see that process start and it did this week.
"You always hope that some kids will step up each year," he said. "I think that we will find some kids to step up and take the places of the seniors that we lost this year. I think they will help make us a veteran team. It's exciting to look forward to."
One way he is able to see who might step up and improve during the upcoming season is by watching his players in Baker University's summer league. Each summer, many of the BHS players participate in the league, which lasts around a month.
They play on Monday nights against other area teams. Each game has 20-minute halves that use a running clock. The league began last week, which was the first day of the BHS summer camp.
"It's fun to see them get the basketball in their hands," Martin said. "We worked a lot on fundamentals and gave them a chance to play a lot. They have started to develop the kind of relationships that make a team."
The BHS players enjoy the annual league, because it usually takes place right after camp ends. They enjoy being able to learn the team philosophies at camp and then use them during the games.
"Camp helps a lot with the Baker league, because we get to practice what we've already learned in the games," Weege said. "We can get better at what we do and show it in the Baker league. It's a fun time playing in the Baker league."
Seaman agreed with Weege.
"At camp we reviewed some plays and the freshmen learned them for the first time," Seaman said. "When we play in our Baker league games, everyone is on the same page and you can say that it helps our team chemistry."
Junior Calleigh Durr enjoyed jumping from camp to the Baker league last week.
"Having camp before Baker league was definitely nice, because we got to play with each other again and get back into the swing of things," Durr said. "I am very excited about basketball season because it will be interesting to see what our team can do and it should be a lot of fun."
The Bulldogs will continue playing in the Baker league for several more weeks and end it during early July. Then they will begin their season in November. That's how Martin wants it, because he doesn't want basketball to take up his players' whole summer.
"It gives us a chance to prepare and most of the stuff we do is in June," Martin said of the camp. "I like to let them have July off so they can be kids and have a good summer. It's nice to have it early so that they have a little bit of a foundation to work with."