Father's Day weekend event kicks off Friday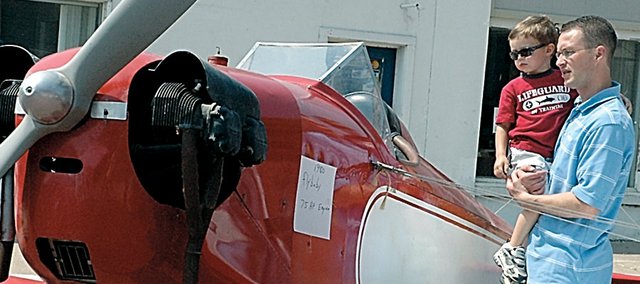 Baldwin City will once again be celebrating Father's Day weekend - with even more events this year.
Beginning Friday night and heading through Saturday, the annual Planes, Trains and Automobiles will be taking center stage in downtown Baldwin City. The event has become a Father's Day weekend tradition.
"Some of the guys have cars, motorcycles and planes, of course, but there are many fathers that come down for the event," co-organizer of the event Stan Vickers said. "Since it's a Father's Day weekend, we usually see a lot of fathers. We also see a lot of women, too."
The weather forecast for Saturday predicts a sunny day with a high temperature in the 80s.
"We've been watching the weather and Saturday looks like it's going to be a good day," Vickers said. "We want everyone to come out and enjoy the day in Baldwin City."
The annual event is kicking off with an outdoor movie Friday night for the second straight year. This year's film is fitting for the event - it's "Planes, Trains and Automobiles."
It's a 1987 comedy starring Steve Martin and John Candy. The movie begins at 9 p.m. and it will be shown in the grass lot between the post office and Lumberyard Arts Center, located between Seventh and Eighth streets on High Street.
"We want people to bring their own lawn chairs and we're trying to get popcorn to be available, too," Vickers said. "Last year we had about 35 or 40 people attend. We would like the local people to come out and support that event. It will be fun this year."
The rest of the festivities begin Saturday. In addition to the usual festivities, there are two new events this year. They are the Best of Baldwin Barbecue Contest and the outdoor 2-on-2 basketball contest.
The barbecue contest is free to enter, but there is a minimum of 15 pounds of meat to cook. All entries must check in at 8 p.m. Friday, before the movie starts. Those who wish to cook overnight can, according to Rita Madl, co-organizer of the event. As of Tuesday, she said 16 people have entered the contest, but she will take entries up until Friday night.
"This year we wanted to do something fun that Hickory Creek Barbecue could sponsor," Madl said. "It's just another idea for having fun this weekend. We want local residents to come down and find out who is the best. It will be a lot of fun."
Vickers said they were also hoping that contest would help bring more of a Father's Day feel to the weekend's event.
"I was hoping that the barbecue would be a good, new addition to the event, because that's all part of Father's Day," Vickers said. "I'd say a good percentage of fathers are barbecuers or barbecue eaters."
The basketball contest is being sponsored by the Baldwin City Recreation Commission. The entry fee is $10 and there is a maximum of three players per team. All entries must be registered by Friday by calling (785) 594-3670 or online at www.baldwinrec.org.
The games will be played in the parking lot east of the First United Methodist Church, located at the corner of Seventh and Grove streets.
The usual assortment of events for the day are back. They include the antique, classic and street rod car show that begins at 8 a.m., vintage motorcycle show that begins at 9 a.m. and airplane rides at Vinland Airport from 9 a.m. to noon.
This year Midland Railway will be hosting A Day Out With Thomas: 2008, its usual Thomas the Tank Engine event. Tickets for the event can still be purchased by calling 866-468-7630 or going online at www.ticketweb.com or www.midland-ry.org.
Vickers didn't have official numbers for the car and motorcycle shows, but was hoping for more than last year.
"We are always hoping for a bigger number than we had the previous year," Vickers said. "We don't want to make it too big, but large enough so that people can come in and enjoy themselves."
Another popular event is the Father's Day speeches, which are read by local children to their fathers. They take the stage at 10 a.m.
"There is usually a pretty good draw there," Vickers said of the speeches. "It's all part of what we look at, because it's a connection with the parents and the children. That's what we need to try and bring together. Listening to the speeches really opens people's eyes up and gives them a feel of that connection."
Following the speeches, the Baldwin City Community Theater will be performing to promote its upcoming show, "The Wizard of Oz." The outdoor show runs June 19-22 at the grass lot.
The other entertainment will be local bands performing from 1 p.m. to 5 p.m. in the Lumberyard Arts Center. For more information on the weekend festivities, call the Baldwin City Chamber of Commerce at (785) 594-3200.
"We're ready for it to be here and ready to meet everyone that comes," Vickers said. "It should be a good Father's Day celebration."