College coaches highlight camp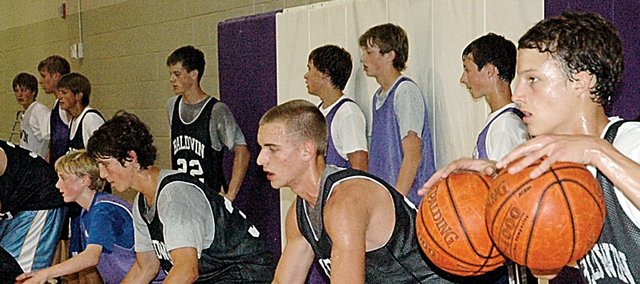 Eric Toot was able to sit back and watch his players learn last week.
During his own boys' basketball camp, the Baldwin High School coach enjoyed a little extra time to evaluate his players. Toot brought in three area college coaches to work with the BHS players during three of the four days the camp ran last week.
"We tried something different this year," Toot said. "We brought in guest coaches for our upperclassmen. They really seemed to enjoy that, because it was different voices and different views. It gave me a chance to go down to evaluate and work with the freshmen. It was an enjoyable week. I think the kids had a good time and I know I did."
The coaching clinicians were Baker University men's coach Rick Weaver, Baker University assistant women's and former Paola High coach Richard Ebel and an Ottawa University coach. They taught the Bulldogs from June 2 to June 4, which allowed Toot to work with the players on the last day of camp.
Although the Bulldogs are confident in Toot's style of basketball, they still enjoyed listening to other coaches' perspectives.
"Camp was a lot of fun," senior Clad Kueffer said. "We got the chance to play together and have a lot of fun. We learned some different philosophies from the other coaches.
"It was nice and it was cool to see other ways to do things and how other coaches do it," he said. "But we all have faith in the way coach Toot runs things."
Kueffer wasn't the only one who enjoyed the trio of local coaches. Sophomore Justin Vander Tuig was happy to hear other ways to coach the game.
"Camp was fun. We brought in three different coaches from area colleges and they showed us how they thought we should play the game," Vander Tuig said. "It was fun to see different views on the game."
The Bulldogs worked out for more than two hours each day at camp. Each coach taught the Bulldogs for most of the day that they were there, which gave them plenty of time to drill and instruct them.
Although it was the lone BHS camp for the Bulldogs, Toot allowed the guest coaches to teach what they wished. He said ensuring the players know his system isn't very important during the summer.
"I gave the other coaches free reign on whatever they wanted to do," Toot said. "We don't really focus on our stuff during the summer. We focus on little fundamental things and letting the kids play as much as possible. With the freshmen, we try to introduce some of our basic philosophies."
Both Kueffer and Vander Tuig agreed the coaches focused their teachings on the defensive side of the game. They both said that is an aspect of a player's game that can always be improved.
"They stressed a lot about different defensive strategies and different ways to play the game on defense," Vander Tuig said. "It was nice to learn, because defense is always a part of your game that you can improve on."
Kueffer added that the defensive instruction was more based for one-on-one basketball, rather than team defensive strategies.
"We learned a lot about on-the-ball defending," Kueffer said. "We also learned about putting pressure on the guy when he picks up his dribble. We mostly learned about one-on-one defense."
Around 40 BHS players attended the camp last week, which pleased all three BHS coaches. The attendance number for a summer camp, especially the upperclassmen, made Toot smile.
"Everybody showed up, too, that's what was great," he said. "We had six seniors and four juniors, even though a couple couldn't be there because of work or other things going on. As far as our core varsity guys, they were all here. When you have 40 kids at camp at a 4A school, that means most of them are here. They are excited for the season."
To achieve the high attendance rate, Toot held his camp nearly as early as possible. He wanted to hold the camp and get it out of the way before the players' summer schedules started becoming much busier.
"I definitely like to have it early," Toot said. "One reason is to get everything set up for our summer league coming up next week. We also have kids going to a KU team camp and we have a fundraiser. This gave me a chance to have all 40 kids in the gym and talk to them. I also like to have everything done by July, because I think it's important that the kids start concentrating on their fall sports by the time July rolls around."
The players also enjoyed the camp and spending time with each other for a few days.
"It was definitely nice to get back together with my teammates and play basketball again," Vander Tuig said. "It was nice to have the camp, because school has been out for a couple of weeks. It's nice just to get back together with your friends, play basketball and have fun."
The four-day camp has Kueffer excited for his final season in a BHS uniform, which begins in November.
"A lot of it felt the way practice did this year," Kueffer said. "It gets me excited for the start of the year. I'm really pumped for the season and I know the other guys are, too."