Bulldog Days nears century mark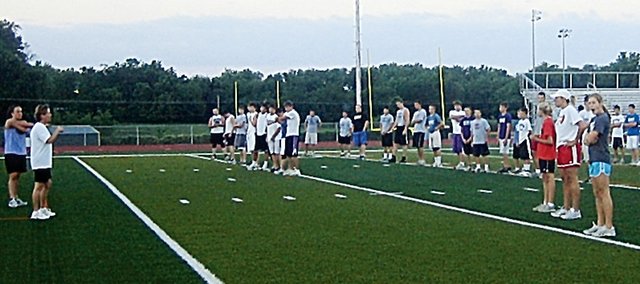 Attendance and the variety of ages have increased.
However, the mission remains the same - a 30-minute exercise workout that includes jogging, plyometrics and other exercise drills - all done at one's own pace.
This summer marks the fourth year for Bulldog Days, an exercise program based off Lawrence's Red Dog Days. Once again, the McCrary family is running the show and leading hundreds of Baldwin City area residents every night of the week and even a few mornings each week.
"This is our fourth year and the word is out," said George McCrary, who started the program in 2005. "There were a lot of people asking about it before it ever got started. We started May 15 and I think our largest number is nearly 100. We've had 94 here at one time. The turnout has been great and we have kids from ages 3 to adults over 60."
Near the end of last summer, many of the Baldwin High School football players were attending the program on a regular basis to condition themselves for the upcoming season. BHS football coach Mike Berg saw the instant results a year ago.
"It was the difference between night and day," Berg said. "We didn't have to focus on conditioning during our two-a-days. It was a huge help for us."
This summer, McCrary has seen many more BHS athletes attending already. He has also been pleased with variety of ages that come out every day.
"We have a great mix," McCrary said. "We have more high school kids and we have more of a high school mix, not just the football team. We've got cheerleaders and volleyball players. We had so much success last year at the end of the year with the senior class. We've also got mom and dad. We've got the grade school kids. That's the neatest thing.
"When I'm running around during the middle of this, the thing that makes me most happy is that we've got people of all ages in motion and setting examples," McCrary said. "When you think you're tired and someone runs by you, it makes you think you can do it even harder."
Berg has been encouraging his players to attend the workouts this summer.
"Since last year, it's been a big part of our off-season conditioning," Berg said. "Since we can't coach them, we just encourage them to attend. I put it on the teammates' shoulders to get each other there. The seniors have done a great job of getting teammates there."
Last year, around 30 to 40 people attended Bulldog Days on an average basis. This year has seen that number nearly double. McCrary is confident that the increased attendance is directly related with how attendees spread the word about the program.
"Well, you know how much advertising we spend for this program," McCrary said sarcastically. "The employees are paid high dollar and the memberships are high dollar. It costs extra to workout longer than 30 minutes. It's worked great through word of mouth and that's the old fashioned way of marketing."
Bulldog Days is free to the public and the volunteers run the program each session. It meets at 8 p.m. Monday through Friday and at 6 a.m. on Monday, Wednesday and Fridays. Every session is held at Baker University's Liston Stadium, located between First and Second streets on Fremont Street.
Although the summer program has only been operating for less than a month now, several hundred different people have attended. One of those is local resident Jill Boyle, who also ran track at Baker University. She enjoys the camaraderie of Bulldog Days.
"It's going great so far," Boyle said. "I like being around other people, because it makes me run faster than I would on my own. It pushes me to run harder. If I go workout by myself, all I do is run. I don't do any pushups, stairs or anything like that.
"I didn't do any last year and I didn't do it very often two years ago," she said. "I am impressed that this many people are coming out. I try to make it three times a week, that's my goal."
Participants who attended 20 or more sessions will be given a free Bulldog Days t-shirt. That number is up from 15 last year. McCrary did say sponsor spots for the back of the shirts are still available.
The 30-minute workout often includes push-ups, sit-ups, jumping jacks, several plyometric drills, jogging around the track and sets of stairs. Each workout is different, but usually includes a mix of similar drills.
This year the routine has been altered slightly from a year ago, because McCrary said he is trying to learn and improve as the program progresses.
"I'm trying to do what I do," McCrary said. "I'm critical of myself and one of the things that I looked at from last year's workouts were areas that we could work on, like your low back, extra agilities and extra foot speed.
"For some of the older folks, some of the agility drills we do really helps with their balance," he said. "That's what those specific drills are intended to help."
McCrary, who injured himself slightly last week during a Bulldog Days workout, has been very appreciative of his wife, Cheryl, and daughter, Kaylin, because of their help with running the program everyday.
"This year has been about the McCrary family," McCrary said. "My wife and daughter have been leading. When I do something stupid and race 13-year-old kids and sprain my ankle, they have been wonderful. It's been a great success so far and we're not even halfway through the summer."