Thomas back in town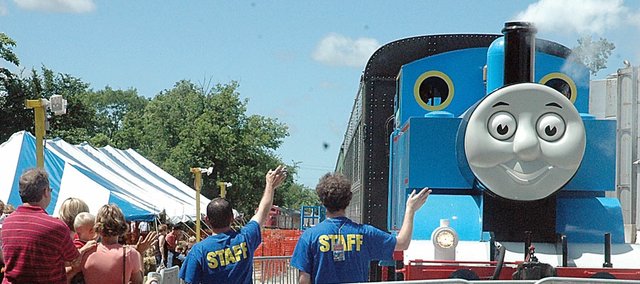 Hundreds of children visited their favorite cartoon train here Friday and thousands more are expected during the rest of the weekend.
A Day Out with Thomas: 2008 has rolled into town for its annual two-weekend run. The event is once again being held at the Midland Railway.
Families filled the Midland grounds for the inaugural day of the event. Katy and Robert Kittle of Douglass brought their grandchildren to town to see Thomas the Tank Engine. After riding the train and enjoying other activities, Katy said the children were having a blast.
"My daughter and her husband went to Cancun, so we took over taking care of the kids for them," Katy Kittle said. "We decided to drive up for the day to see Thomas and we'll drive back tonight.
"Dayton (2) is a really big Thomas fan," Kittle said. "Gavin (5) is kind of phasing out Thomas as he gets older. He has been a big Thomas fan. They have lots of trains and Thomas stuff. They loved the train ride today."
Another family that visited Thomas Friday were the Hinds, from Jasper, Mo. It was there first visit to see the train. Julie Hinds brought her son Hunter, 5, and daughter Taylor, 2.
"Thomas brought us here today, because he is a big Thomas fan and she is getting into it because of him," Hinds said. "Ever since he turned 2, he's been a big fan. I think the first words out of his mouth were Thomas."
Some new items this year include a new magician, a petting zoo, LEGO blocks and new merchandise designed more toward event. Other activities include meeting Sir Topham Hatt, storytelling, magic shows, toy trains, temporary tattoos, straw maze, inflatable slide, inflatable bouncer and climbing in a fire engine.
Tickets are $18 for ages 2 and up, but Friday tickets can be purchased for $15 if the promotion code, found at www.midland-ry.org, is used. Trains depart every 45 minutes each day.
The tickets for the 25-minute ride with Thomas can still be purchased for both weekends. They can be purchased by calling 866-468-7630 or online at www.ticketweb.com or www.midland-ry.org.