Olympian donates to Baker athletics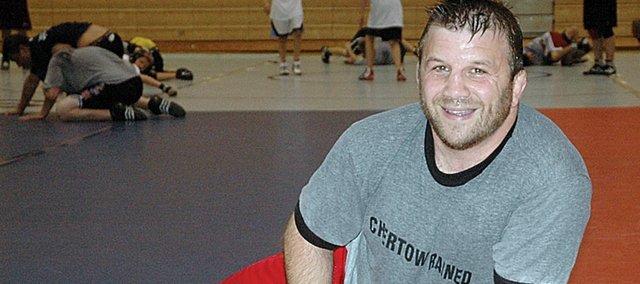 Ken Chertow assisted Baker University in starting a new sport.
He made a small donation to Baker last year after the first year of his camp here in Baldwin City ended. His contribution paid for two wrestling mats that will help kick start the university's program that is set to begin in the fall of 2009.
"I made a donation to help get the ball rolling last year after our camp," Chertow said. "I am all about promoting our sport. When I heard that they were thinking about adding wrestling here, I brought my camp to Baker. It's help catalyzed interest in Baker. The more interest wrestlers showed in Baker, the more the ball got rolling."
One reason he enjoys hosting camps at colleges is to help that school toot its own horn. He hopes that he has helped Baker do that so that its wrestling program will be successful when it begins.
"There are numerous recruits that are sophomore and juniors in high school that are interested in attending Baker," Chertow said. "I've introduced them to Kit (Harris) and the Athletic Director Dan Harris. One of the benefits in bringing the camp here is to get people interested in Baker."
Chertow was back this weekend for the second year of his nation-wide camp that visits 19 states during the summer. The camp began Friday and finished up Tuesday at Baker. Around 80 campers came to town for five days of wrestling and learning.
Campers came from 10 different states. The states that were represented were Kansas, Missouri, Nebraska, Oklahoma, Colorado, New Mexico, Utah, Minnesota, Arizona and South Dakota.
"Camp went awesome," Chertow said. "The skill level of the kids that came this year was higher. There were a lot of repeat campers and they knew what I was looking for. The overall intensity of the camp has been better. I'm really pleased."
Kit Harris, Baldwin High School and Baldwin Junior High School wrestling coach, was a clinician at the Gold Medal Training Camp. He helped teach many of the wrestlers, while also taking time to practice technique during the training sessions.
"I always learn a lot from camps," Harris said. "A lot of the things I've done in the last several years are things I've picked up at camps like this."
This year seven Baldwin School District wrestlers attended the camp. They were Bryce Shoemaker, Carter Sudja, Tucker Clark, Cody Sellars, Cameron Christian, Adam Christian and Alex Alsup. Two other Baldwin Youth Wrestling Club grapplers came to the camp. They were Jesse LeMay and Caden Lynch.
The location of the camp made it easy for the wrestlers to learn from college all-Americans and Chertow, who competed at the 1988 Olympic Games.
"These kids took advantage of it being in their hometown," Harris said. "They're not spending money on travel. They are able to go home or play baseball games and do stuff they had to do. Then they were able to come to great wrestling sessions."
At the camp, the wrestlers sat through seminars about strength training, nutrition, goal setting and mental preparation. They also endured three two-hour sessions of actual wrestling, which took place in Collins Gym.
Chertow wants his campers to grasp an enjoyment for the sport, while learning important life skills along the way.
"We try to develop a passion for the sport of wrestling," Chertow said. "We try to teach them that it's fun. We also try to show them a wide variety of techniques to expose them to the important skills that are out there. We try to motivate them to drill hard so they can go home and perfect those moves. It's all about motivation, because I only get them for five days out of the year.
"I encourage them to give commitment, not just in wrestling, but academics and thinking about their future," he said. "One of the goals of our camp system is to help place kids in colleges."
While seven Baldwin wrestlers did attend the camp, Harris was hoping for a few more, especially those who are competing at the high school level.
"I am really happy that they came," Harris said. "It's a hard camp and it was a great opportunity for them. I'm glad they took advantage of it.
"I'm really disappointed that we couldn't have more kids come and take advantage of this though," he said. "I only have one high school kid. I tried really hard to get them to understand what a great opportunity this was to learn from some great national champions and an Olympian, but I wasn't able to do it."
Chertow didn't say if he would return to Baker next summer, but his passion for the sport won't ever change.
"This is one of our hubs for camp," Chertow said. "I love teaching wrestling. I very much enjoy helping kids."