Mundinger, Gresnick return to district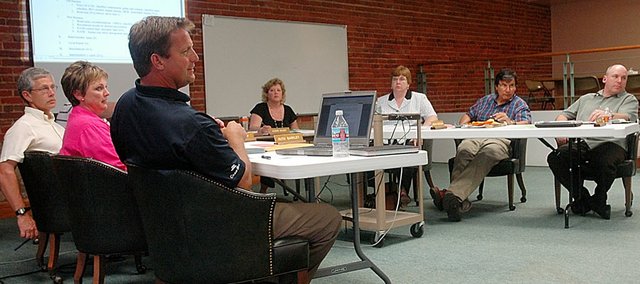 A pair of decisions came down Monday night affecting the Baldwin School District at the elementary and junior high levels.
One was a change in policy regarding resident transfers, while the other was at the administrative level. Both decisions passed unanimously.
After meeting briefly in executive session, the Baldwin School Board voted 7-0 to rescind the resignations of Joe Gresnick, Baldwin Junior High School assistant principal, and Tom Mundinger, Baldwin Elementary School Intermediate Center principal. The two administrators announced their resignations, which were also retirements, in the winter. They had hoped to retire from Kansas Public Employees Retirement System, which they are both eligible for, and still work in the district. That wasn't able to happen.
"All along, we were trying to stay here, but some things we were trying to do didn't work out," Gresnick said. "We just decided this would be the easiest thing to do."
Supt. Paul Dorathy is happy that both principals will be back for the 2008-09 school year.
"I think it's always important to keep good, experienced administrators," Dorathy said. "I think Mr. Mundinger and Mr. Gresnick are good people to keep in the district. I'm pleased that we are going to keep them as administrators in the district."
The first of the two decisions came during the middle of the meeting. The board approved two policies that affect transportation for student transfers.
New students wanting to transfer within the district, which would be from one elementary school to another, will not be provided transportation to the school outside of the attendance boundary they live. However, students that have been transferring to another school will be provided transportation for one more year.
"We understand that the policy change removes a service that we've been providing to some students," Board President Alison Bauer said. "However, we don't provide the service to students that want to go from Baldwin to our outlying schools. So, we've got to figure out a way to resolve this inequity. We can't treat students in different ways. So, we are going to give them a year's notice to let them know this is how we have to do it in the future. This won't happen for any new students, but next year, when students go to school out of their attendance area, it's going to be their folks' responsibility to get them there."
The school board might have been persuaded by district patron Ray Ogle. He spoke up during the public comment section of the meeting about the proposed policy change. He wanted to know if a child could be taken into town to attend an elementary school, because their sibling was being taken by bus to Baldwin Junior High School.
The board discussed the issue for a little while Monday. Board Member Bill Busby suggested grandfathering the children who already transfer one year before the policy of no transportation affects all children in the district.
"The board was very clear that it won't allow any new students, and this is by student not by family, to be provided transportation for transferring within the district," Dorathy said. "For one year and one year only, we are going to give families a transition on how they're going to work out their own transportation with that. They are going to allow it for one more year if they had already been doing it."
At the end of the meeting, the board approved the personnel report. The only resignation was Shiloh Harlan, Baldwin Elementary School Primary Center second grade teacher.
The hires included Justin Hoffman (Baldwin High School head girls tennis coach), Patty Lenning (BHS head cheer sponsor), Luna Novello (BHS assistant cheer sponsor), Tracie Bacon (BHS assistant cheer sponsor) and Kyla Meisenheimer (Baldwin Elementary School Intermediate Center first grade instructor).