Embarq lends helping hand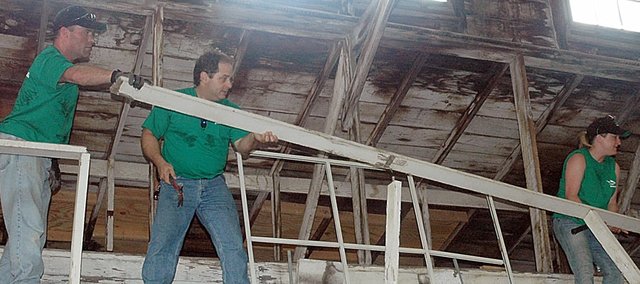 Diane Niehoff recruited help - lots of it - to help the Lumberyard Arts Center's facelift project.
Her help came from the corporate world.
"These guys just came at 1 o'clock," said Niehoff, LAC project president. "It looks like a bunch of little worker bees in here."
"They were wonderful," she said. "It's just difficult when you have 20 people that have no idea what you need done, come in at once. They accomplished a lot in the little bit of time that they were here."
Around 20 volunteers from Embarq came to Baldwin City for several hours Friday afternoon. They helped Niehoff and her husband, Jim, work on the building, which is in the process of being gutted.
The Niehoffs have been working to tear apart the inside of the building. They are tearing it down to the framework, which requires removing the old plaster and boards.
"We started work last week in the demolition in order to remodel and convert it into an arts center," Diane Niehoff said. "Embarq has a volunteer program that I enquired about. They sent 20 volunteers to help today. Outside of Embarq, Jim has had only one other person show up to help. We were thrilled to have them, even though it's kind of crazy with 20 people working all at once."
The Embarq volunteers were only in town for a few hours, but it wasn't the first time the company has done work like this. Kim Johns even said the employees enjoy a change of scenery from time to time.
"It's been going good, very good," said Johns, leader of the Embarq volunteer team Friday. "I think we've made a lot of progress. It's good to be out of the office and doing physical labor sometimes when you get behind a desk and computer everyday. This is very nice for us."
She said Embarq employees enjoy working on community service projects for the towns they are located in. One woman at Embarq gave her Diane Niehoff's contact information, which started the ball rolling on the project.
"We were asking for areas that need some help. We just like to do community service projects once in a while," Johns said. "At Embarq, we have community relations managers so we reach out to them to see if they know of anyone who needs help. One of our employees gave us Diane's name and information."
Although the building is in the process of being gutted, it is being taken apart very carefully from the inside. The plans for the building include using the boards that were being taken down Friday.
"It's going down to the studs or the framework," Diane Niehoff said. "We are going to use the same framework, but we've got to tear off all of the old plaster. As soon as we get it all gutted, we're having a moving company come in and raise it so we can pour the concrete floor underneath. Then we will lower it and everything will go back."
They also plan on using much of the old items that were in the front two offices. Diane Niehoff said she wants to make the new building look similar to the old lumberyard that used to be in business.
"We're bringing back all of the beautiful, old trim that was in the offices," Niehoff said. "We want to incorporate as much of the old lumberyard as we can. We will use the railings that are up above again, but they will have to be higher to meet code. The new plans will recreate the old look."
One of the problems before Friday was finding adequate help for tearing down the inside. However, Diane Niehoff believes that once the concrete floor is poured, the remodeling process should speed up.
"With the just one guy, it's such a big job," Niehoff said. "It will go much easier after we get all of the tearing out and the floor done. When you go back new, it's easy to tell people what to do. When we're trying to save as much of the old stuff, we have to be careful when you take it apart, so you can't just rip it apart."
Another problem has been finding a place for a lot of the old items in the building. Before the tearing down can be completed, all of that must be removed from the premises.
"The biggest thing that we needed was help in moving all of the junk that we have accumulated," Niehoff said. "Everybody is always donating this and donating that. We are grateful for the donations, but then we have to find a place to put all of this stuff and get it out of the way."
She said they hope to pour the concrete floor soon after June 14. The building is being used that day for the Planes, Trains and Automobiles event. She might even call on the Embarq volunteers for future help.
"We are just here for a few hours, but Diane said she is going to keep our name and number since it's like a two-year project," Johns said. "We can always come back. Plus, we have other employees who like to do similar team-building opportunities. We could paint or do other projects for Diane."