Former, current Bulldogs compete in 5K race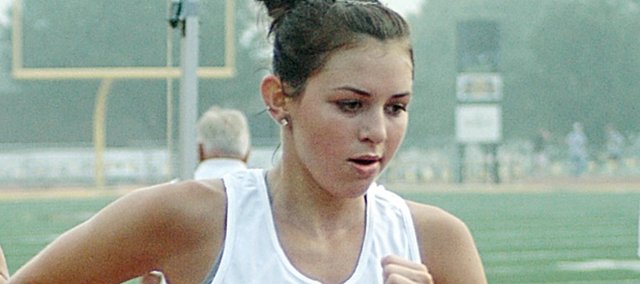 Emporia — A handful of runners battled a warm, muggy morning in a fundraiser for the Shriner's Hospital here Saturday.
Although it wasn't a typical autumn morning, most of those runners were competing in the Kansas Shrine Bowl all-star cross-country run. A few others joined the road race to help start the day of festivities for the annual high school all-star football game.
"It is about 98 percent humidity right now," said Connor Wright, Baldwin High School senior. "It's also about 85 degrees out. I got a good sweat out."
Wright was one of four representatives from BHS. He entered the road race as an individual, along with BHS freshman Cory Stephens. A pair of former Bulldogs were invited to the East-West All-Star cross-country run. They were 2008 BHS graduates Heather Garcia and Aaron Karlin.
They competed in teams of up to 15 runners against other 2008 graduates from around the state. Both former Bulldogs enjoyed the race, although official results were unavailable.
"It was a little rough," Karlin said. "There were a lot of guys, so you could run with the pack instead of running against them. It was fun getting to know them. The course wasn't as hilly as I thought it was going to be. It was sort of flat."
Before the race, Karlin said he had been moderately training, but not as much as he wanted. Meanwhile, Garcia has been running vigorously this summer, as she will be competing for NCAA Div. 1 Boston College in the fall.
"I thought the race went well," Garcia said. "I wasn't taking it too serious, so I didn't' have expectations of how good I wanted to do. I just wanted to run faster then normal and see how I could compete."
Wright and Stephens also competed in the 5-kilometer race Saturday morning. Wright will be one of the top runners returning for the Bulldogs this fall. He said he wanted to test his summer training with a race.
"This was fun and part of my training as I get ready for the upcoming season," Wright said. "It's not exactly fun, but it's worth it. I just wanted to get a good workout in before I head out for vacation."
Wright and Karlin even made the race a friendly competition between the pair of former teammates.
"I saw Connor before the race and he was talking trash," Karlin said. "He backed it up though."
Wright agreed that he backed up his talk.
"He's a freshman now, so I get to look down on him," Wright joked. "It was good that I could back it up, because he isn't training right now."
Garcia said the weather didn't affect her, but she enjoyed the temperature later in the day.
"The weather wasn't too bad once you started to run," Garca said. "I didn't really notice it. After the race when we had to do other activities it was so enjoyable."
Of course, the race wasn't the only thing the all-stars did all weekend. On Friday, they spent time bonding with their teammates from around the state. They went bowling, listened to a speaker and even shared a dinner together.
On Saturday, they were featured in the Shrine Bowl parade and were announced at halftime of the football game. It was an experience they both will remember.
"It was a fun experience," Karlin said. "The guys were great to meet. Some things were kind of boring. We had a motivational speaker that wasn't very exciting. The pasta dinner was good and we got some all-star treatment Friday. The bowling was fun, too. We did some things to make us bond together."
For Garcia, the weekend was one final time for her to bond with runners she has become friends with over the years.
"It was a new experience, because it was just seniors," Garcia said. "Most of them I know so it was cool just getting to run against them. I also got to hang out with some of the girls I am close to one last time before we all go off to school, so I really enjoyed that part.
Now, she and many others will be representing universities across the country, such as Kansas, Missouri, Georgia Tech and, of course, Boston College.
"I had a lot of fun with everything," Garcia said. "It was kind of nice to throw in one last fun run and trip until I start competing at school."