Facelift for fabled Parmenter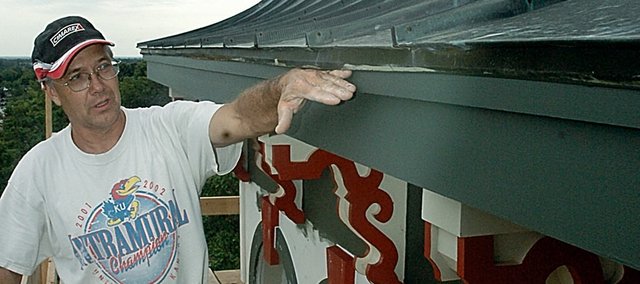 Baker University's signature - the cupola on top of Parmenter Hall - is receiving a facelift.
Local contractor Scott Braddock and crew have been replacing the wood facing of the storied top of Baker and painting it.
"I've lived here for the last month," Braddock said from atop the cupola, which provides a breath-taking view of the campus. "It's been quite a project."
But, the original structure is still standing firm.
"Structurally, it's sound," said Braddock.
Baker was founded in 1858, 150 years ago, and had its anniversary celebration all last year. Parmenter Hall was constructed not too long after that.
"The laying of the Parmenter Hall cornerstone took place in June of 1866 when Baker graduated its first college class," said Steve Rottinghaus, Baker spokesman. "Five years elapsed before the faculty and students could occupy one floor in March of 1871. The building was completed with the addition of the cupola in 1882."
The history doesn't stop there, either. A president made a contribution to help with construction costs.
"Yes, Abraham Lincoln did give $100 to the construction of Parmenter Hall," said Rottinghaus.
Braddock has discovered plenty of history along the restoration's way. That includes what he believes to be the initials of the carpenters who built it etched into posts.
There's something else that shows its age, too.
"They used square nails," said Braddock.
Of course, he isn't using square nails, but the restoration project is being done to maintain the history.
"The current wood is being replaced with Cyprus wood and will be repainted the same color," said Rottinghaus.
He said the project is expected to be completed by Aug. 8 at a cost of $55,000.